THREE ENVIROFORENSICS SCIENTISTS PRESENTING AT INTERNATIONAL CONFERENCE ON CHLORINATED SOLVENTS AND RECALCITRANT COMPOUNDS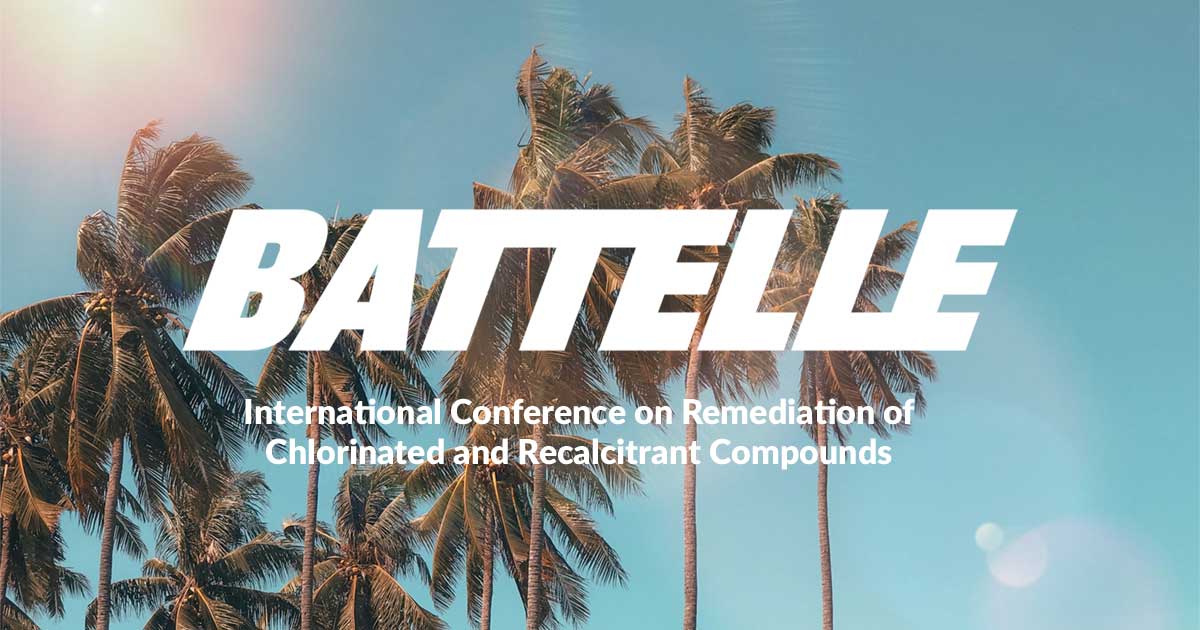 Three EnviroForensics scientists will present the results of their current research projects at this year's Battelle International Conference on Remediation of Chlorinated and Recalcitrant Compounds. The conference is considered the signature forum for the environmental remediation industry and will feature the largest technical program to date with over 1,300 platform and poster presentations on the schedule.
"Scientific innovation and excellence form the foundation of our environmental remediation service lines. A mainstay of scientific work is peer review, and Battelle's 2022 Chlorinated Conference gives us the opportunity to share what we have learned and receive valuable feedback from the remediation community," said EnviroForensics President, Jeff Carnahan. "We believe that our application of cutting-edge environmental investigation and remediation approaches keeps our clients at the top of the list of regulated closures each year, particularly at chlorinated solvent sites. We are excited to collaborate and learn at the Chlorinated Conference this year."
This year's presentations by R. Scott Powell (PE, LPG), Brian Kappen (LPG), and Michele Murday Pariso (Project Geologist), cover current remediation topics like the study of dilution to improve injection-based remedial treatment, targeted soil excavation with a passively dispersed reductive amendment in a source area over fractured bedrock, and the use of horizontal colloidal activated carbon permeable reactive barriers to control vertical mass loading into a sandstone aquifer. Read our summaries below.
WHEN DILUTION IS THE SOLUTION TO POLLUTION: HOW MOBILIZING DNAPL RESULTED IN A MORE SUCCESSFUL INJECTION-BASED REMEDIAL TREATMENT APPROACH
BY: MICHELE MURDAY PARISO AND COLLIN MARTIN (ASH UNION)
EnviroForensics designed and directed implementation of in-situ treatment of solvent contamination at a former drycleaning facility in Northwest Indiana. The remedial approach consisted of source area reagent injections and installation of a permeable reactive barrier (PRB). The Site logistics played an important role in this plan, as a down-gradient right-of-way provided a buffer zone between the site and off-site properties that allowed for the limited migration of the diluted source area DNAPL after the first injection event. Following a second injection event in 2021, groundwater monitoring data indicate a substantial reduction of the remaining source area mass, and no breakthrough of contamination has been detected beyond the down-gradient PRB.
CAN LESS REMEDIATION BE MORE EFFECTIVE? COMBINING TARGETED SOIL EXCAVATION WITH PASSIVELY DISPERSED REDUCTIVE AMENDMENT IN A SOURCE AREA OVER FRACTURED BEDROCK
BY: R. SCOTT POWELL
Extensive remediation was needed at a site in Northeast Indiana with high concentrations of tetrachloroethene (PCE) source material located directly over fractured bedrock. This contaminant mass was leaching directly into unconsolidated and bedrock groundwater, resulting in an elevated dissolved phase plume that migrated offsite. A multi-faceted (and costly) remedial approach would be needed to reduce both the vadose zone source area contaminant mass and the dissolved phase contaminant mass within the bedrock fractures.
Soil excavation was selected as a cost-effective remedial option to remove the source area vadose soils overlying the fractured bedrock, but excavation of deeper saturated soils and fractured bedrock was not a feasible or cost-effective option. Therefore, a soil reagent was applied to the bottom of the excavation by specialized methods prior to backfilling to promote 1) abiotic degradation within residual saturated soils and bedrock interface impacts, and 2) enhanced reductive dechlorination (ERD) in the natural groundwater environment for prolonged dissolved phase contaminant mass reduction. The effectiveness the remedial approach has been demonstrated through enhanced reducing conditions, PCE breakdown products, and abiotic markers in groundwater samples collected to date, with additional groundwater monitoring to continue during 2022.
USE OF A HORIZONTAL COLLOIDAL ACTIVATED CARBON PERMEABLE REACTIVE BARRIER TO CONTROL VERTICAL MASS LOADING INTO A SANDSTONE AQUIFER
BY: BRIAN KAPPEN AND KEITH GASKILL (REGENESIS)
A novel approach for reducing mass loading of chlorinated volatile organic compounds (CVOCs) to a sandstone aquifer was implemented at a site in Southern Wisconsin. Glacially-deposited material and a fractured dolomite unit overly a sandstone unit, creating a complex hydrogeological system. The CVOCs moved vertically through the unsaturated overburden into the dolomite, spreading through it and migrating into the sandstone. These conditions formed a 30,000 square feet area of contaminant mass loading, resulting in a mile-long CVOC plume in groundwater.
Direct treatment of contamination in the dolomite would not be effective due to the clay-filled fracture network. Rather, a horizontally-oriented colloidal activated carbon (CAC) permeable reactive barrier (PRB) was applied to remove contaminants from the dissolved phase and reduce the vertical migration of CVOCs into the sandstone. Nearly 100,000 gallons of CAC mixture were injected via a network of 21 specially designed and positioned injections points to form the horizontal PRB. Post-application monitoring has demonstrated reduced CVOC mass loading to the aquifer, and compound-specific isotope analysis (CSIA) of groundwater samples indicates that CVOC biodegradation will continue to occur in the absence of any further remedy. Based on these results, the overseeing agency has agreed that the site is ready for regulatory closure.
CHLORINATED 2022 CONFERENCE INFORMATION
These and over 1,000 other posters and presentations will be on display at the Twelfth International Conference on Remediation of Chlorinated and Recalcitrant Compounds in Palm Springs, California, which runs from May 22-26.
Learn more about our innovative environmental investigation and remediation capabilities.
___________________________________________________________________________
Michele Murday Pariso, Northwest Indiana Branch Manager
Michele Murday has more than nine years of experience in environmental consulting with a focus in investigation and remediation projects involving dry cleaners, lead, and petroleum impacts. Michele has been responsible for the management of numerous projects throughout various stages of investigation, remediation, and closure ranging from $1,000 to $5,000,000. Michele has directed numerous subsurface investigations of varying size and employed a variety of remedial technologies, including soil excavation, multi-phase extraction systems, vapor mitigation, soil mixing, and chemical injections. Michele's experience includes data analysis and interpretation, reporting on all phases of projects from investigations through closure, preparing 3D site visualizations, proposal scoping, project management, due diligence research, and risk communication. She has also worked closely with clients, subcontractors, and municipalities, as well as state and federal regulators.
Scott Powell, PE, LPG, Senior Project Manager
R. Scott Powell has 20+ years of environmental consulting experience. Powell's expertise covers a wide variety of projects ranging from due diligence, petroleum, hazardous material remediation, asbestos, lead-based paint, to remedial systems. He manages complex relationships and fosters cohesive involvement of PRPs on multiple sites with co-mingled contaminant plumes requiring the implementation of remedial solutions for chlorinated solvents, hazardous materials, and petroleum hydrocarbon impacts. Powell manages negotiations with state and federal regulatory agencies and provides litigation support in matters concerning environmental issues. Powell has been responsible for the overall management and administration of environmental projects ranging from $1,000 to $3,300,000.
Brian Kappen, PG, Senior Geologist, Project Manager
Brian Kappen has 15+ years of experience in environmental consulting with a focus on contaminated site management. His diversified professional experience includes research, proposal scoping and budgeting, preparation of work plans and reports, project management, geologic and hydrogeologic data collection, vapor intrusion assessments, data analysis and interpretation, remedial action evaluation, and implementation of remedial actions. Kappen has served in supporting and management roles on numerous investigation and remediation projects regulated by state, RCRA and CERCLA programs, primarily involving chlorinated solvent impacts. Kappen has also been involved with several Phase I and Phase II environmental site assessments and served as a field team leader for a comprehensive two-year environmental baseline study at a remote mine prospect in Michigan.