EnviroForensics'  Vapor Intrusion and Mitigation lead shares his expertise on how contamination in the air from current and/or past operations may be impacting your property and community health.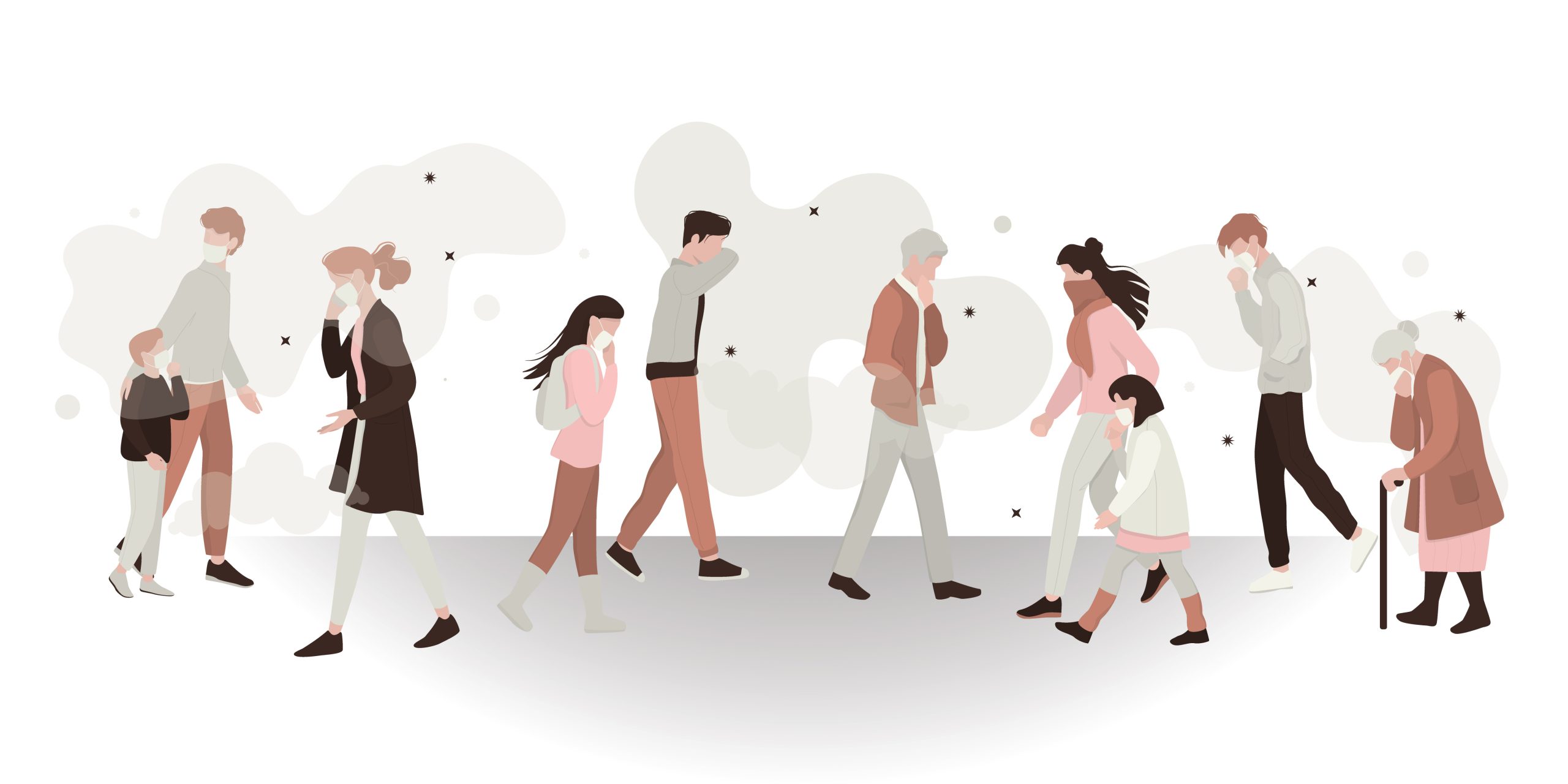 BY: JORDAN GOFF, LPG
Access to fresh air and water are required to sustain a healthy life and should not be taken for granted. Do you know if current and/or historical operations at your property are adversely impacting the breathing air within your building or nearby structures? If you have read EnviroForensics' past articles, we have explained the basics of environmental contamination, how it impacts properties, and the process by which an environmental consultant like us can assist with investigating, mitigating, or remediating a contaminated property. In this article, I am focusing on explaining how contamination in the air from current and/or past operations may be impacting your property and nearby properties.
HOW ENVIRONMENTAL CONTAMINATION OCCURS
Let's briefly review how environmental contamination can occur. Environmental contamination begins with a sudden and/or incidental release(s) of hazardous materials into the environment. These are referred to as "spills" and can occur in areas where hazardous materials are used. Perhaps it was a leaky connection to a drycleaning machine that dripped solvent for years, or a sudden accident where a container of solvent (virgin or waste) tipped over and released out the back door soaking into the asphalt parking lot or ground surface. These areas where contaminants are released are termed "source areas". The contaminants in source areas can migrate downward in the subsurface due to gravity. Because the contaminant molecules from a spill can bind to soil particles, a source area can continue to release contaminants into the subsurface over time. Contaminants that migrate vertically can reach the groundwater and spread as they dissolve into the groundwater and migrate in the direction of groundwater flow. This is a common way for contamination to travel away from a source area and impact adjacent properties. So now that you know how a contaminant can be released and enter the subsurface environment; how exactly can this impact air quality?
HOW VAPOR INTRUSION OCCURS  
Drycleaning solvents like tetrachloroethene (PCE), also known as perchloroethylene or commonly referred to in the industry as PERC, are volatile organic compounds (VOCs). As these chemical compounds are volatile, they readily evaporate from liquid to vapor phase. Let's take nail polish remover for example: as soon as you open the container you will smell the acetate in the air immediately. This is because acetate is volatile and readily evaporates from its liquid form to its vapor form when exposed to ambient air. The potent odor from the nail polish container, or PERC container within your building, is an indicator of the vapor phase quickly filling a room when a container is opened. Now if we consider a contaminant source area where PCE was spilled into the subsurface, we can understand that the material will readily evaporate, or 'off-gas', and the vapor phase will contaminate the surrounding subsurface air residing within spaces between soil particles. Given the characteristics of vapors, the contaminated air will migrate laterally and upward towards the ground surface. Contaminant vapors in the subsurface air will continue to spread outward as contaminants move from areas of high concentration to areas of low concentration.
As contaminants off-gas from impacted soil and groundwater, they can potentially produce a soil gas contaminant plume (or vapor plume) which is basically a subsurface 'cloud' of contaminated air. These soil gas plumes can accumulate beneath structures and enter the structure's breathing air, this is commonly referred to as "vapor intrusion". This can occur in a variety of structural settings, whether a structure is constructed over a crawlspace with a gap between the soil and floor of the building or if it is a concrete slab placed directly on the soil. Contaminated air from the subsurface can seep into the structure from the exposed soil of a crawl space or through cracks, floor drains, sumps, or other penetrations in a concrete slab. Depending on the contaminant concentrations of the vapor plume, breathing the indoor air impacted with contaminant vapors could adversely affect the health of occupants within the structure. Vapor plumes can exist in the subsurface and impact structures long after the spill and spread of contamination initially occurs. As contamination released to groundwater can allow contaminant to travel away from the source area, vapor intrusion can occur at structures well away from the initial source area of contamination as well. 
TESTING AIR QUALITY FOR VAPOR INTRUSION
These air impacts can go unnoticed as they are not typically concentrated enough to be observed by your sense of smell and require specialized sampling and analytical testing to evaluate the concentrations in indoor air. To ensure that property owners and residents near known source areas and vapor plumes are not being exposed to potential health risks from these vapors, it may be necessary to test the air quality.  Soil gas monitoring wells can be installed nearby known environmental contamination to evaluate the subsurface conditions in the area. If samples collected from soil gas monitoring wells indicate the presence of contamination at certain levels, then nearby structures may be further evaluated. Indoor air samples can be collected from within the occupied living spaces of structures to evaluate indoor air quality while samples can also be collected outdoor to evaluate the air conditions outside for comparison. In addition, small sampling points can be installed through the concrete slab of a structure, known as sub-slab vapor sampling points, and used to collect samples from beneath a structure. Evaluating the air conditions beneath the concrete slab aid in determining what can potentially enter the structure through the concrete slab or other penetrations. 
In addition to environmental contamination in the subsurface leading to vapor intrusion and contaminated breathing air withing structures, business operations can impact indoor air. We occasionally have our clients ask us if subsurface impacts can affect breathing air of structures, how are drycleaners able to use these solvents within their own facilities? And can actively using them present the same health issues to occupants in adjacent or nearby properties? 
Many industrial facilities like drycleaners legally use known hazardous substances to carry-out their manufacturing or other business operations. As hazardous substances can provide risk(s) to workers using certain products, the Occupational Safety and Health Administration (OSHA) requires proper communication of the substances used by the employer. This communication includes acceptable indoor air exposure levels of the chemical used in a business environment. 
Concentrations of the volatilized chemicals produced during business operations can permeate the indoor air and other materials/contents within the structure. The contaminated air within a building (generated from operations or vapor intrusion) will spread outward exhausting to the outdoors through doors, windows, exhaust fans, etc. at which point they migrate along with the general wind direction. Depending on the property layout and surrounding properties, this contaminated air could potentially infiltrate nearby structures' breathing air, introduced through open doors and/or windows, or can even be entrained into ventilation systems of a nearby structure. In some scenarios where a facility may share a common interior wall with an adjacent business (like in a strip-mall for example), the air concentrations from materials being used in one business can permeate through the walls and/or above the shared ceiling or attic space into the adjacent business. Although adjacent spaces may have their own separate ventilation system and not have direct access to the area where the contaminated air is generated, air mixing can still occur and impact adjacent spaces.
As we previously discussed, OSHA permits a facility using hazardous materials to have certain concentrations of contaminants in the workers breathable air, but what about the breathing air of the adjacent business unit or the potential residential structure across the alley? The permissible levels allowed by OSHA are prescribed for workers, not for the occupants of nearby structures. When environmental investigations are performed, indoor air concentrations are compared to levels prescribed by the local and/or state government, or in some cases the Environmental Protection Agency (EPA). These levels are much lower, or more stringent, than OSHA levels as the occupants of these structures are not electing to work at a business or live in a residence that knowingly stores or uses hazardous chemicals. As one might imagine, this can be problematic for operators of facilities that use hazardous materials. Although they can maintain compliance within the work environment, the same air concentrations may not be in compliance if determined to be present in adjacent or nearby properties.
MITIGATING VAPOR INTRUSION
Now that I've explained scenarios by which past and/or current hazardous material storage, use, and releases can impact indoor air, you'll be relieved to know that appropriate measures can be taken to mitigate the impacted air and ensure a healthy breathing environment. EnviroForensics has installed numerous systems, designed to mitigate the potential for unwanted contaminated air from entering the breathing air of a structure. For vapor intrusion scenarios, where unwanted vapors are entering the structure from the subsurface beneath a structure's foundation, a vapor mitigation system can be installed. A vapor mitigation system is designed to interrupt the pathway by which vapors enter the breathing air. As structural foundations can vary, vapor mitigation systems can be comprised of multiple components, for example: active venting, passive venting, sub-slab depressurization extraction points, vapor barrier in crawlspaces, pre- and post-construction installations, vapor matting, etc. For scenarios where unwanted air generated from active operations is the issue, ventilation systems can be rerouted and/or modified to mitigate the issue. Once a system is in place, long-term operations, maintenance, and monitoring is often completed to continue to confirm the system(s) are operating as designed.  
Rest assured, EnviroForensics is here to assist you for if you have concerns that one of these scenarios may exist at your property. Our team of scientists have a wealth of experience at tackling complex environmental issues to aid in managing liability for clients and minimizing any potential threat or undue harm from air contamination in their communities. Contact us to learn more on how we can help you address your environmental risks in a business-friendly approach.  
As seen in Cleaner & Launderer