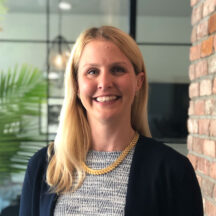 Morgan Saltsgiver is a Licensed Professional Geologist (LPG) with sixteen years of experience in the environmental industry specializing in providing Agribusiness, Brownfields development, and traditional environmental consulting services to her clients. Her educational background in geology provides a strong basis for geological and hydrogeological interpretations of contaminant migration through subsurface media and the development of conceptual site models used to develop the path forward towards closure for each project site. She assists her clients with finding and using alternative funding sources for their environmental issues, including historical insurance policies, federal and local Brownfields grants, and state trust funds.
Morgan maintains a working rapport with project managers at the IDEM, the California RWQCBs, the Kentucky DEP, the Texas CEQ, the Virginian DEQ, and the US EPA and all other project stakeholders to facilitate productive cooperation and momentum on her projects. She manages the technical and business aspects of projects and has extensive experience evaluating and remediating agricultural chemical, petroleum, chlorinated solvent, and PCB releases at sites across the United States.
Morgan serves as President of the Indianapolis Chapter of the National Association of Women in Construction (NAWIC), Immediate Past President of Midwestern States Environmental Consultants Association (MSECA), and is actively involved with the Northwest Indiana Influential Women's Association (NWIIWA) and the Ball State University Geology Department's Alumni Advisory Board.
Email: msaltsgiver@enviroforensics.com
To receive a copy of Saltsgiver's resume, call 866.888.7911
Articles by Morgan Saltsgiver: