ENVIROFORENSICS' SENIOR ENGINEER PRESENTS ABOUT DATA-DRIVEN DECISIONS FOR CHLORINATED SOLVENT SITES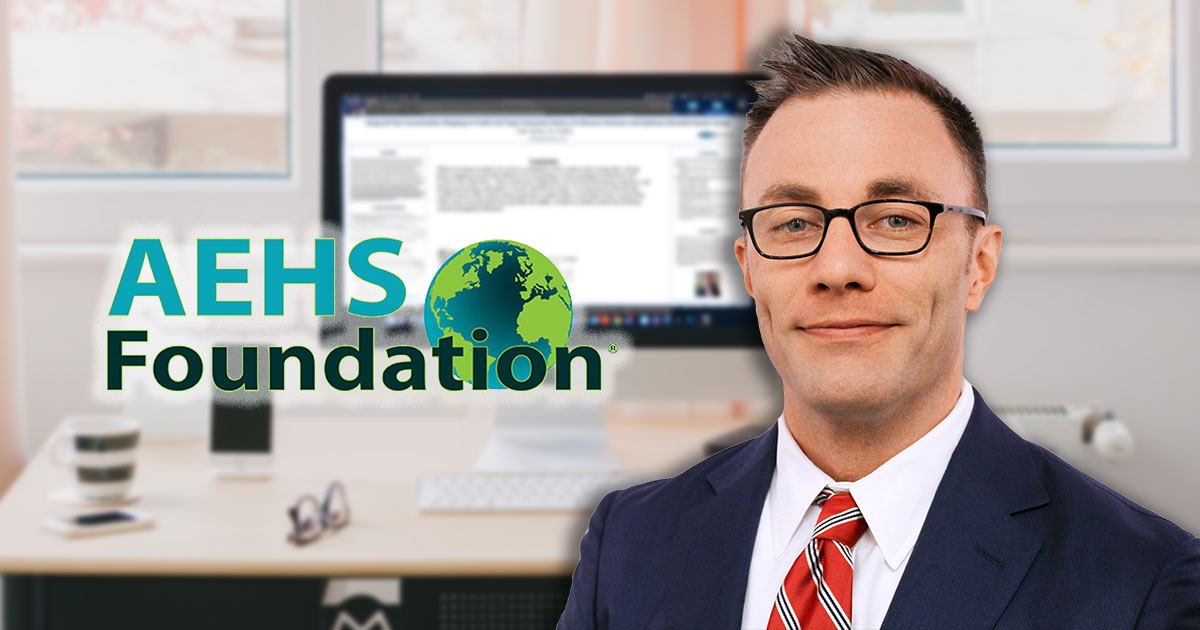 It's always an honor to be given an opportunity to share our insights with the international environmental consulting community. EnviroForensics' Senior Engineer, Collin Martin, will present to an international audience of his peers at the 2020 Association of Environmental Health & Sciences (AEHS) Foundation Soils, Sediments, Water, and Energy East Coast Conference. Collin submitted an abstract, Data Driven Decisions for Chlorinated Solvent Site Investigation Design, Remediation Technology Selection, and Regulatory Closure, based on data collected on the job.
COLLIN MARTIN'S PRESENTATION: DATA DRIVEN DECISIONS FOR CHLORINATED SOLVENT SITE INVESTIGATION DESIGN, REMEDIATION TECHNOLOGY SELECTION, AND REGULATORY CLOSURE
Our work as consultants is only as good as our decision making. And our decision making is only as good as the data we have and the choices available to us. Since each 'bad' decision we make costs our clients' money, and 'bad' consultants tend not to stay in business very long, we all have a vested interest in making the best possible decisions for our clients. One of the best ways to gain perspective and to see hidden avenues for cost-savings is to look at how other firms have handled similar sites and evaluate the resulting paths those sites took to reach closure. By combing and analyzing data from historical sites, simple trends and patterns can emerge to help guide future decision-making processes. Knowing whether the best approach for a site will be multi-iteration or continuous site investigation, using aggressive remedial action or a plume stability monitoring approach, or implementing institutional controls or a long-term stewardship plan can mean the difference between years of additional site work and millions of dollars in spent capital for our clients. Our detailed analysis of over 100 closed sites has yielded several notable trends, which we will use in our client's best interest to maximize our 'good' decisions as consultants and to minimize the cost and time incurred by our clients.
Read about Collin's presentation at AEHS in 2019, and other insights from the conference
WHAT IS THE AEHS FOUNDATION?
The AEHS Foundation is a non-profit organization founded in 1990 to facilitate communication and foster cooperation among professionals concerned with the challenge of soil, sediment, and water assessment, cleanup, and protection. They focus on helping the international community adopt and maintain environmental sound and sustainable practices.
MORE ABOUT THE SOILS SEDIMENTS, WATER, AND ENERGY EAST COAST CONFERENCE
The conference itself deals with site investigation, remediation, risk assessment, sustainability approaches, and cutting edge technology from the environmental consulting industry. It is normally jam-packed with technical presentations, exhibits, and workshops from all the leading consulting and regulatory bodies in the environmental field.
ABOUT COLLIN MARTIN, PE, CHMM
Collin Martin is a Senior Engineer at EnviroForensics, and has over 15 years of diversified professional experience in environmental consulting. Colin serves as client manager and technical manager on numerous high profile and complex projects, and his expertise includes a strong knowledge of fate and transport of chemicals in soil, soil gas, and groundwater, human health and ecological risk assessments, industrial and commercial operations, and insurance coverage of long tail liabilities. While managing sites ranging in size from retail gas stations and dry cleaners to large manufacturing facilities, Collin has amassed extensive experience working with releases of chlorinated solvents within voluntary and enforcement cleanup programs for various State agencies and the U.S. EPA. Collin's expertise includes the investigation and remediation of subsurface releases of hazardous substances for the purpose of evaluating and controlling the risk and cost implications to his clients. He has directed numerous subsurface investigations of varying sizes and scopes, has experience in all phases of mechanical remediation design and implementation, and has experience in the practical applications of enhanced bioremediation, ISCO, and ISCR remedial approaches. Collin leverages his diverse knowledge base and experience on behalf of his clients to provide cost-efficient and strategic consulting services.
Learn about our team of environmental experts.