A Less Costly Way to Redevelop
Abandoned industrial and commercial facilities often have complex environmental and economic problems due to a use history or condition that presents questions as to whether it may be environmentally contaminated or would make redevelopment complicated. Acquisition and transformation of such properties—called Brownfields—takes knowledge and experience to re-adapt them for communities. EnviroForensics helps clients navigate the maze of environmental regulations and issues that often impede redevelopment.
For over 20 years, EnviroForensics has been Turning Environmental Liabilities Into Assets®. We have the environmental expertise and knowledge of historical site coverage to partner strategically with businesses, Brownfields coordinators and developers. We help community leaders convert blighted properties into valuable community assets for redevelopment. We perform:
Phase I or Phase II Environmental Site Assessments on abandoned properties

Evaluate and rank Brownfields sites for redevelopment

Identify and locate responsible parties

Locate historical insurance coverage to fund cleanup

Lead a multi-disciplined team for adaptive re-use of underutilized properties

Ensure site closure brings maximum redevelopment opportunities
We accomplish this by leveraging the expert knowledge of our team of geologists, engineers, geochemists, scientists and insurance archeologists with appropriate legal counsel.
---
Contact our Brownfields team today!
Steve Henshaw, PG
CEO
866-888-7911

Morgan Saltsgiver, LPG
Director of Brownfields & Agribusiness
866-888-7911
---
Did you know that our HQ used to be a Brownfields site?
EnviroForensics' renovated headquarters on 825 N. Capitol Avenue was originally a transmission repair shop dating back to the 1930s. The 23,000 sq. ft. structure had environmental contamination left behind by the historic auto repair operations. This made the complicated for real estate developers, but we knew how to remediate the environmental contamination and understood the value in investing in the property and the greater North Meridian corridor. We located the historical insurance policies to fund the site investigation and remediation of the contamination. Once the space was clean, we brought our vision for a revitalized headquarters to life. Read more about the redevelopment of our office and the North Meridian Neighborhood.
Before and After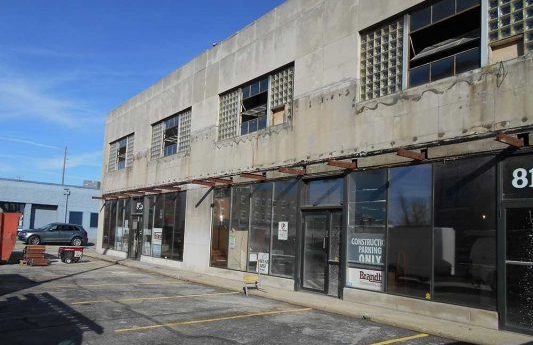 Want to see inside our HQ?