Environmental liability can complicate and even derail acquisitions and unexpected liabilities can significantly affect a company's bottom line. We address liabilities by finding old insurance policies to pay for environmental and legal expenses. EnviroForensics finds historical insurance, manages environmental claims, provides remediation services, and offers guaranteed cost-cap cleanups to effectuate transactions.
We've Found Over $4 Billion in Assets
We help private equity firms, brokers, municipalities, and other stakeholders save merger and acquisition deals involving contaminated properties through our unique insurance archeology division, PolicyFind™. By reconstructing historical insurance coverage, we locate funding for cleanup costs and legal defense against third-party liabilities. Additionally, unused historical insurance assets can be monetized and sold back to the insurance carriers.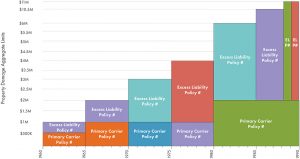 Schedule a Confidential Consultation
REAL ESTATE AND
ENVIRONMENTAL DUE DILIGENCE
- Conduct Phase I and Phase II Environmental Site Assessments (ESAs)
- Develop environmental liability and exposure costs
- Identify and evaluate Potentially Responsible Parties (PRPs) and historical land use
- Investigate corporate history reconstruction
- Perform regulatory compliance audits
- Undertake Confidential Insurance Archeology®
ENVIRONMENTAL
CLAIMS MANAGEMENT
- Locate and reconstruct historical insurance coverage
- Tender claims
- Manage environmental claims
- Work with regulatory agencies, attorneys, engineers and insurance carriers
- Negotiate and secure cost-cap remediation insurance
- Negotiate settlements
POLICY BUYBACK
EVALUATION
- Reconstruction of historical insurance coverage
- Assess and value environmental risks
- Negotiate a policy buyback with carriers in exchange for cash

Contact our Leaders at 866-888-7911

Steve Henshaw
CEO, EnviroForensics® & PolicyFind™
Jeff Carnahan
President, EnviroForensics® & PolicyFind™
Kristen Brown
Director of Operations,
PolicyFind™
"Our client, a former business owner, was facing a costly environmental cleanup involving groundwater contamination at and emanating from a property the client previously owned. The client's insurer requested that the client locate historical insurance policies–both policies formerly issued to the client and policies formerly issued to past owners of, and past operators at, the property. PolicyFind™ responded quickly by conducting confidential insurance archeology® which turned up evidence of additional coverage; PolicyFind™ then tendered claims under the newly identified policies. The client and I were eminently pleased with PolicyFind's rapid response and timely success at finding additional coverage."

– David L. Guevara, Ph.D., Taft Stettinius & Hollister LLP

"PolicyFind™ was instrumental in locating historical insurance policies for our firm on an important municipal redevelopment project that required finding financial resources to pay for environmental remediation costs. We were pleased with their capabilities and of course with the end result which saved the City from having to foot the cleanup bill."

– Brent Huber, Ice Miller

"PolicyFind™ did a fantastic job for us finding responsible parties and their insurance assets as we pursued cost recovery on behalf of innocent property owners from former facility operators that caused and/or contributed to environmental contamination."

– Richard Van Rheenen, Esq of Lewis Kappes

"PolicyFind™ located coverage from the 1950s and 60s that opened up another avenue of possible insurance recovery for one of our clients to explore."

– Damian Arguello, Davis Graham & Stubbs LLP