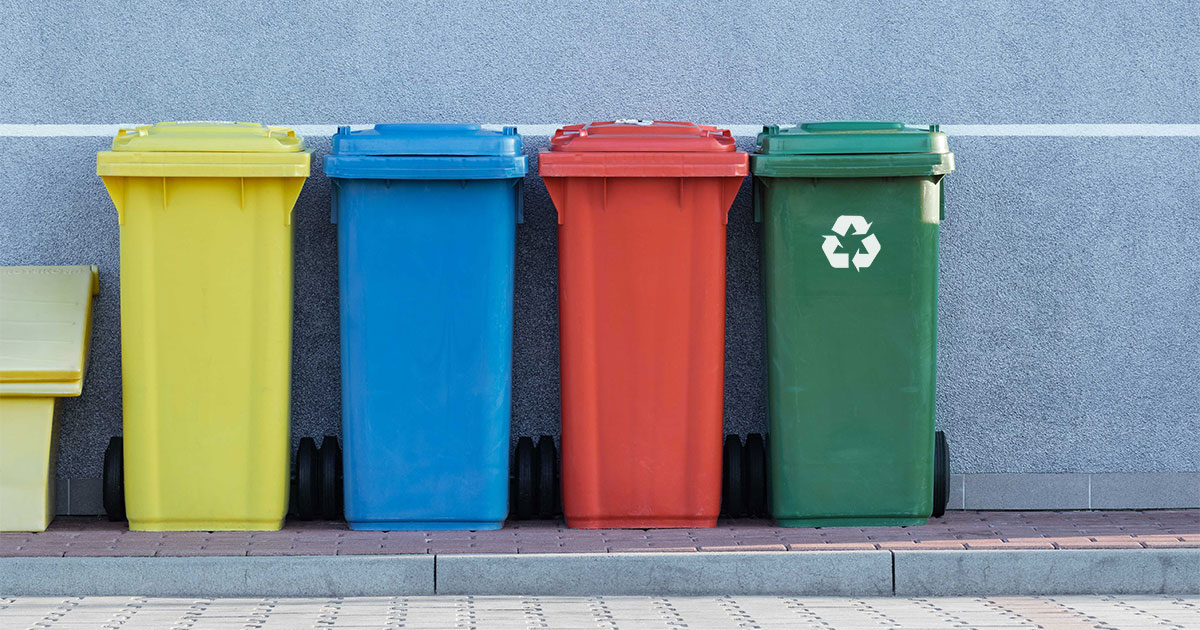 One of the most important things you can do as an individual to clean up the environment, is to learn how to recycle. Every November 15th, Keep America Beautiful and its 1,200 local affiliates, celebrates America Recycles Day. A day dedicated to educating the masses about recycling, and getting more Americans to commit to more sustainable lifestyles.
Why recycling is important
The average American produces 4 pounds of waste material each day (Not a typo). The amount of waste produced annually in the United States alone could circle the globe 24 times! A significant portion of that is plastic, aluminum, cardboard, paper, and glass that could be recycled instead. As the population continues to grow, and we produce more waste, we're going to eventually run out of places to put it. Landfills also present their own set of problems. They emit greenhouse gases into the atmosphere and require deforestation, both of which contribute to the growing climate crisis. They can also leach hazardous runoff into the soil and groundwater, and pose a threat to surrounding populations.
Promoting sustainable values everyday
As an environmental engineering firm, EnviroForensics creates healthier communities through remediating and removing environmental contaminants. Professionally, our team has taken the Partners Pledge as a part of the Indiana Department of Environmental Management's (IDEM) Indiana Partners for Pollution Prevention program. Individually, our team members mobilize through the EnviroForensics Sustainability Council, organize regular neighborhood cleanups to pick up litter around our office, and push for more sustainable initiatives within the company. We also encourage each other to develop the sustainable habits that will lead to waste reduction.
How to get started
Recycling is a lifestyle change that requires discipline and repetition. Here is a tried and true 5-step process that will make this easier.
1. Start out small
Breaking old habits can be really difficult. Try to start out small by understanding what can and cannot be recycled.
Recyclable
Aluminum cans

Corrugated cardboard

Junk mail

Glass bottles
Not Recyclable
Plastic shopping bags

Foam cups or containers

Soiled food items

Broken glass
2. Purchase separate bins for recyclables at home
Now that you know what you can recycle, you can start sorting your household waste into trash and recyclables. Make it easy on yourself and put a few recycling bins around the house. It may take a couple of tries to remind yourself to not throw your used aluminum cans in the trash, but that will change over time as you start to develop the habit.
3. Find a public drop-off location
If you don't have curbside service, try to find a public drop-off area. Most major cities have locations throughout the area that accept recyclables free of charge. Another option is to see if your workplace has recycling services, and if they allow employees to dispose of their recyclables there.
4. Subscribe to curbside pickup
Once recycling has become second-nature, and you feel comfortable paying a little extra, subscribe to curbside pickup service. Most private waste management companies have this as an option, and it normally only costs about $6 extra a month. To put that into perspective, a cup of coffee and a breakfast sandwich at Starbuck's can run you almost $10.
5. Tell people how easy it is and to join the movement
Now that you've developed the habit of recycling, tell your friends and family how easy it was, educate them on how they can do it too, and get them to commit to recycling.
---
This post is brought to you by the EnviroForensics Sustainability Council
The EnviroForensics Sustainability Council advances education through community relations and implements sustainable practices in our operations and facilities.