It was the continuation of what has been a very exciting year in the history of EnviroForensics. Thursday night, we welcomed more than 200 people through our doors at 825 North Capitol to get an up-close look at our brand new headquarters; the culmination of more than a year's long effort to bring new life to an old costume warehouse and transmissions garage. True to form, EnviroForensics combined the celebratory activities with an opportunity to convey an important message of environmental and human rights awareness.
The event began with an important discussion about clean water accessibility. Our partners with Water for Empowerment are working towards bringing clean water and hygienic education to women in the developing world, and tapped two like-minded individuals to speak on the subject in front of a large crowd gathered in the Community Room.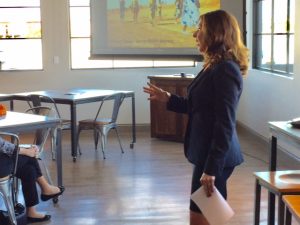 State Representative and Democratic Candidate for Lt. Governor, Christina Hale, has spent a good portion of her career in politics fighting for women's rights. She talked about the widespread effects of water poverty, and emphasized the value of a proper education, especially for women in the developing world. The main speaker, Wateraid's Vincent Casey, took over the discussion to detail what happens on the ground in water impoverished areas and how his group is combatting those obstacles. It's a multi-faceted effort focused on the delivery of technology to cultivate clean water and the educational resources to achieve and maintain a healthy lifestyle long after Wateraid has left.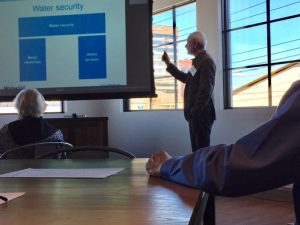 Following the presentation, the building itself took center stage.  Friends, family, and colleagues passed through the halls on guided tours and impromptu jaunts; beverages and finger foods in hand as they heard the stories of the 13 Hoosier artists whose work dots the walls of the newly refurbished structure. The Community Room lived up to its name, becoming the epicenter of the celebration and serving as a space for people from all walks of life to gather in friendship, enjoy a tasty snack, and take in a slideshow of the building's construction from start to finish. It was a night to remember, a night to cherish, and truly one that embodies the heart and soul of EnviroForensics.
Take Virtual Tour of Our Building: