For more than two decades, EnviroForensics has been helping dry cleaners and small business owners tackle their environmental liabilities while finding alternative funding sources to pay for cleanup, and now, EnviroForensics will be opening an office in Northwest Indiana.
CEO, Steve Henshaw, had the opportunity to talk about this exciting news with Lakeshore Public Radio, the local NPR station, and his vision to find new ways to fund environmental cleanups and stimulate economic development.
---
---
"Our approach is to look and see if we can find some resources through old insurance policies, normal slip-and-fall type insurance policies, that didn't have exclusions to these policies for contamination, or environmental pollution," Henshaw told Chris Nolte, host of Regionally Speaking.
Learn more about CGL policies and how they can be used to fund environmental investigation and cleanup efforts.
While the majority of the company's work has been with manufacturers and small business owners, Henshaw explained the practice of digging up old policies can also work for larger industrial sites and Brownfields projects that may be lying dormant in Northwest Indiana.
"A lot of these sites might be distressed, sitting there on the tax roll, but not in any kind of active productive use, so they aren't really benefiting the community," Henshaw said, referring to the underutilized or, in some cases abandoned, industrial facilities in Northwest Indiana.
"We can also assist municipalities at pursuing the same sort of options of finding these resources to pay for these very expensive long-tail liabilities."
A large portion of the conversation centered on building a stronger relationship with the communities in the region. The goal isn't just to have easier access to EnviroForensics' current project sites. Henshaw says they're also trying to become a more integral part of the community, by offering their services as a technical resource in good-faith to municipalities under budgetary restrictions, and staffing the office with a Northwest Indiana native who understands the ambitions and needs of the area.
"By having a local heading up that branch in Michele Murday, we're very excited that this gives us a stronger foothold in the community itself," Henshaw said.
To learn more about how EnviroForensics can help you revitalize your community visit
Brownfields Development
and fill out our form.
---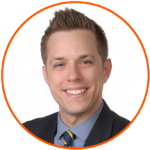 With a passion for storytelling, Alex Miller is EnviroForensics' Marketing Coordinator leading social media and news reporting. Before joining EnviroForensics, Alex spent four years in television news where he worked for local ABC and NBC affiliates in Fort Wayne and Indianapolis producing morning and weekend newscasts. He loves keeping up with politics, pop culture, graphic design, photography and community enrichment.