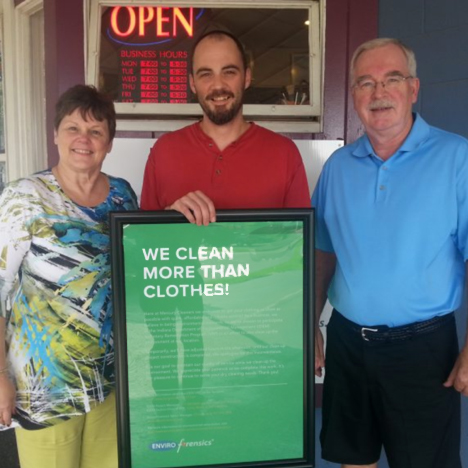 Dry cleaners can either be proactive or reactive when it comes to finding out if they have perc contamination. An Indiana dry cleaner was given a heads-up about possible contamination on their property when a neighboring business conducted a Phase 1 as part of the real estate transaction process to sell their business. Instead of burying their heads, the dry cleaner faced the contamination head-on by joining their state's voluntary remediation program (VRP).
Mercury Cleaners is a family-owned small business and has been owned and operated by the Dygert family since 1950. They're proud members of the Valparaiso, Indiana community, and after cleaning up perc contamination from decades of operating their business, they're still serving their loyal customers today.
Finding Out About the Contamination
The neighboring gas station near the dry cleaner was preparing to sell its business. Therefore, the gas station conducted a Phase 1 Environmental Site Assessment (ESA) as part of their due diligence required by their real estate transaction. The Phase 1 ESA found PCE contamination in the soil and groundwater which could not have originated from the gas station. The gas station owners alerted the Dygert family to the situation.
Mercury Cleaners received a Special Notice of Liability from the Indiana Department of Environmental Management (IDEM). The Dygert family was very concerned about what would happen next and what it would cost them. The Dygert family couldn't afford to pay for the clean up on their own. If they were forced to pay for the clean up of the historical contamination, they would have had to go into bankruptcy and close their long-standing family business.
The Dygert family already knew of EnviroForensics because they had attended dry cleaning seminars where EnviroForensics CEO Steve Henshaw presented about insurance archeology and the remediation of PCE contamination. They also read EnviroForensics monthly column The Environmental Corner in Cleaner & Launderer.
EnviroForensics explained that we could conduct confidential insurance archeology to locate historical insurance coverage and tender those claims with their insurance carriers in order to pay for the cleanup of the PERC contamination.
"Working with EnviroForensics was a huge relief and the nights weren't so sleepless because if Mercury Cleaners had to foot the bill for this, we wouldn't have stayed in business. If you want to sell your business, you're going to have to deal with this. If anyone is thinking about hiring EnviroForensics, I would say, without a doubt, go for it." –The Dygert Family, Mercury Cleaners
This is when Mercury Cleaners chose to voluntarily participate in the IDEM Voluntary Remediation Program (VRP) and become environmental stewards. The VRP encourages environmental cleanups to mitigate the risk that contaminants pose to human health and the environment. They do this by providing a process for property owners to voluntarily address environmental investigations and remediations on a property that may be contaminated. The VRP along with secured funds through insurance archeology provided the funding safety net the Dygert family needed to confidently begin the investigation and remediation process.
In this video, the Dygert family shares more about their environmental and remediation process with EnviroForensics.
The Environmental Investigation and Remediation Work
The EnviroForensics team was able to work with the Dygert family to develop an environmental investigation and remediation plan that respected their wishes for continued business operations, while also incorporating multiple technologies into a holistic and efficient plan. This plan involved adjusted schedules for the EnviroForensics team to avoid disrupting business operations during their business hours–and even the temporary relocation of their prized rose bushes.
As part of the environmental investigation, EnviroForensics conducted vapor intrusion sampling and completed soil and groundwater sampling for the site. EnviroForensics used both ozone sparging (OS) and soil vapor extraction (SVE) technologies to remediate soil impacts, including a soil gas plume, and groundwater contamination.
What is a SVE system?
The SVE "sparging" system shown on the graphic injects compressed air approximately 45 feet into the ground to treat groundwater and remove the soil impacts with a heavy-duty industrial vacuum system. This method of treatment effectively cleans up the soil and groundwater, reduces potential waste to landfills, and minimizes associated local concerns through indoor air. A system similar to the one in the graphic is still in operation at Mercury Cleaners as part of their ongoing operations and maintenance, and monitoring for their remediation and future site closure.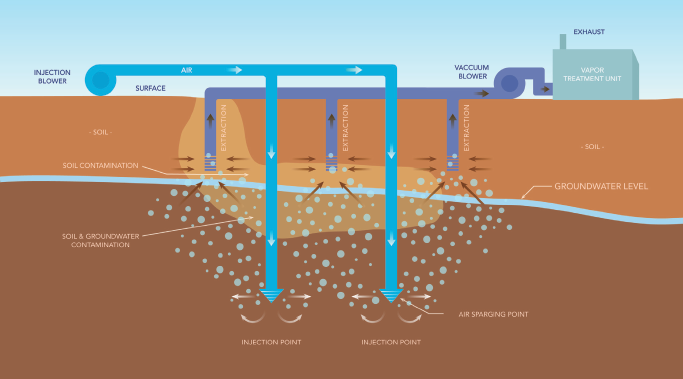 Mercury Cleaners complete their cleanup at no cost to them
EnviroForensics was able to help Mercury Cleaners make a claim to the insurance carriers, introduce them to legal counsel, and conducted the necessary investigation and clean up activities to secure regulatory site closure. Owner Brett Dygert says, "With EnviroForensics help they were able to not only get the clean up started, but found the money to pay for it to let me stay in business."
Mercury Cleaners and the Dygert family have not paid any out-of-pocket costs to clean up the PCE contamination.