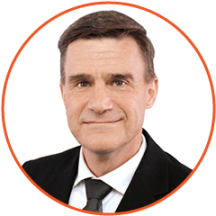 Brad Lewis is a detailed-oriented and collaborative environmental professional with over 24 years of environmental consulting experience. Mr. Lewis has a Master's Degree in Environmental Science and is a Certified Hazardous Material Manager (CHMM) with expertise that covers a variety of projects ranging from due diligence, environmental compliance, Brownfields, underground storage tank, and chlorinated hydrocarbon investigations and cleanups. Because of his strong analytical chemistry background, Mr. Lewis has implemented many innovative site investigation strategies including the use of mobile laboratory, and immuno-assay to characterize sites. Mr. Lewis is a member of the Midwestern States Environmental Consultants (MSECA) organization and took part in MSECA's work group advising the Indiana Department of Environmental Management (IDEM) on revisions to the Remediation Program Guide.
Mr. Lewis manages large chlorinated hydrocarbon sites with large, deep, groundwater plumes that impact overburden, bedrock, and surface water resources. To these projects he brings a keen understanding of contaminant fate and transport and an ability to develop a thorough conceptual site model. This includes development of 2-dimensional and 3-dimensional visualizations of site lithology, hydrogeology and plume characteristics.
He provides strategic planning of the technical and regulatory approach on most EnviroForensic projects. This includes evaluation of new and innovative remedial technologies and changing regulatory and business climates. Mr. Lewis facilitates communications between the responsible party, project managers, counsel, regulators, and the affected residences.
Email: blewis@enviroforensics.com
To receive a copy of Brad Lewis' resume, call 866.888.7911