As a company that cherishes quality education and training, it was an absolute treat for us to welcome some young minds to our headquarters this past week. More than a dozen Herron High School students came to EnviroForensics® office last Tuesday, to take a peek behind the curtain and discover what we do. Most of the students were part of Herron High School's environmental and gardenin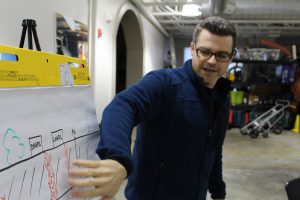 g clubs, with a few Advanced Placement Chemistry students sprinkled in.
For the presentation, we transformed our "field lab" into a classroom. Our field lab is normally used for teaching scientific theory and sample collection procedures to our staff, so it made the perfect venue to educate the next generation of scientists. Students sat in chairs and took notes as, Casey McFall, a project manager with EnviroForensics, went over the basics of our business, covering the company's 20-year history, and how we are able to have fulfilling careers cleaning up the environment and helping small business owners in our communities. The teens appeared surprised when McFall told them they had passed a few active environmental cleanup sites on their way in.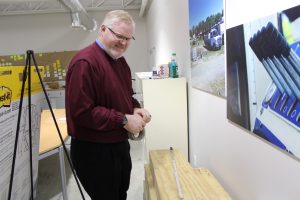 When it was times to get interactive with our young guests, our Chief Geologist, Keith Gaskill, helped the students understand subsurface contamination with a quick demonstration of soil formations and how different contaminants can flow through different soil types. To showcase how a contaminant transports through different kinds of soil, Gaskill poured water – dyed purple – into three open-ended cylinders, each filled with either fine gravel, a fine compacted sand, or a silty clay. The liquid passed through the fine gravel rather quickly, while taking progressively longer to pass through the sand and silty clay. This visualization gave the students an understanding of why we pay close attention to the geology of a project site, and how it helps us determine the most effective cleanup strategy.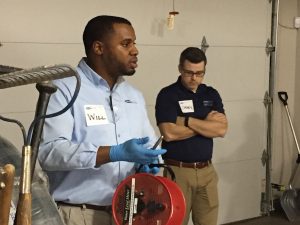 Next, staff scientist, Will Garnes, showed the young scientists how we collect groundwater samples utilizing the permanent groundwater monitoring well inside our field lab. First, he demonstrated how to determine the amount of water in the well with an electronic water level meter, which our Field Professionals use nearly every day. This instrument is comprised of a long tape measure on a spool with an electronic sensor on the end. Garnes uncoiled the meter into the well, which beeped when it hit the groundwater surface. Garnes recorded the measured depth to groundwater and then measured the overall depth of the well. Using those two measurements, he then explained how a Field Professional can determine how much stagnant water needs to be purged from the well before sample collection needs can begin. Purging several volumes of water from the well is just one commonly employed procedure to ensure that the groundwater collected is truly representative of subsurface conditions.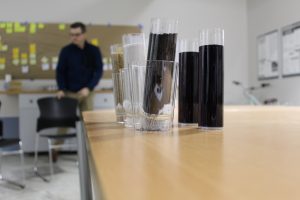 The last demonstration involved the properties of different kinds of contaminants, more specifically, their specific gravities and their interactions with groundwater. McFall poured honey into a water column, which promptly sank to the bottom. The honey symbolized dense non-aqueous phase liquids (DNAPL) or compounds that have a specific gravity of greater than one. He then poured canola oil into the column, which floated to symbolize light non-aqueous phase liquids (LNAPL) or compounds that have a specific gravity of less than one. The students were impressed to see how much these simple concepts taught in their high school classes are actually so relevant at contaminated sites.
Finally, the group was given a brief tour of the EnviroForensics headquarters and shown that it takes all kinds of people (scientists, accountants, marketing staff, etc.) to run a successful business.
Overall, we felt pretty good about the presentation. The overview of our industry, and more specifically, the fact that active environmental cleanups are happening all around us, hit home with them, and it was evident that they wanted to learn more about environmental science. Who knows? Maybe we helped plant a seed for some of these students to take that first step toward becoming an environmental scientist. Even if that's not the case, it was still beneficial for the students to learn about the world around them and to think critically and empirically when solving problems. After all, they are our future, and we must do whatever we can to invest in their success. We look forward to our continued partnership with the Herron High School Science Department to provide real-world examples to the concepts they learn in the classroom.