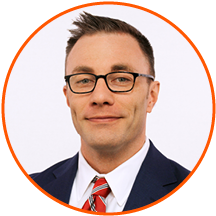 Mr. Martin has over 12 years of experience in environmental consulting with a focus in high-resolution site investigation, remedial technology assessment, and system engineering design and remediation implementation oversight. He has managed numerous chlorinated solvent and petroleum projects throughout various stages of investigation, remediation and site closure ranging from $1,000 to over $1,000,000. Mr. Martin has experience with multiple phases of site development, including: due diligence, compliance audits, site investigation, remediation, regulatory negotiation, and site closure practices. He has designed and implemented a variety of remedial technologies during site cleanups, from removal (focused source excavation, underground storage tank removals, etc.), mechanical (air and ozone sparging, soil vapor extraction, multi-phase extraction, and soil mixing), chemical (chemical oxidant injection, permeable reactive barriers, reductive dechlorination amendments, etc.), development of site specific closure values, and the placement of engineering and institutional controls en route to achieving regulatory approval for site closure.
Mr. Martin has experience in all phases of remediation including performing feasibility studies, pilot testing, remedial design, implementation, and oversight of mechanical remediation system operations & maintenance. Mr. Martin has conducted vapor intrusion assessments including property access coordination and risk-communication with residents, business owners and additional project stakeholders. He has employed vapor mitigation techniques using pre-construction designs, passive venting systems, sub-slab and sub-membrane depressurization systems, and other techniques to control indoor air exposure.
Mr. Martin has experience in conducting historic documentation and regulatory file reviews, forensic investigation design, reserve estimating, claim coverage evaluation, multi-party incurred cost allocating, settlement and litigation support and third-party oversight. He has interfaced and negotiated with property owners, local government officials, insurance carrier groups, attorneys and other stakeholders.
E-mail: cmartin@enviroforensics.com
To receive a copy of Collin Martin's resume, call 866.888.7911