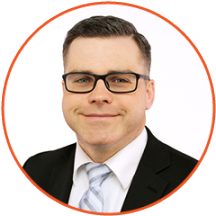 Mr. McFall has 14 years of experience in environmental consulting with a focus in the collection and analysis of various types of environmental media and project management. He has worked on and managed numerous petroleum and chlorinated solvent projects throughout various stages of investigation, remediation and closure. Mr. McFall has experience in due diligence, compliance, remediation, reporting and regulatory negotiation, as well as conducting third-party oversight on environmental contractors on behalf of various clients. He has employed a variety of remedial technologies including: soil excavation, chemical oxidant injection, enhanced biodegradation injection, air sparge, soil vapor extraction and monitored natural attenuation. Mr. McFall has experience sampling and managing projects in Alaska, California, Georgia, Indiana, Ohio, Wisconsin, and Washington.
Mr. McFall has conducted vapor intrusion assessments including property access coordination and risk-communication with residents, business owners and stakeholders. He has conducted numerous vapor intrusion assessments and employed vapor mitigation techniques using sub-slab and sub-membrane depressurization systems.
Mr. McFall has experience in file reviews, cost allocating, and settlement support. In addition, Mr. McFall has also provided third-party oversight in the form of auditing work plans and invoices of environmental contractors. He has interfaced and negotiated with property owners, insurance carrier groups, contractors, attorneys, and other stakeholders.
E-mail: cmcfall@enviroforensics.com
To receive a copy of Casey McFall's resume, call 866.888.7911