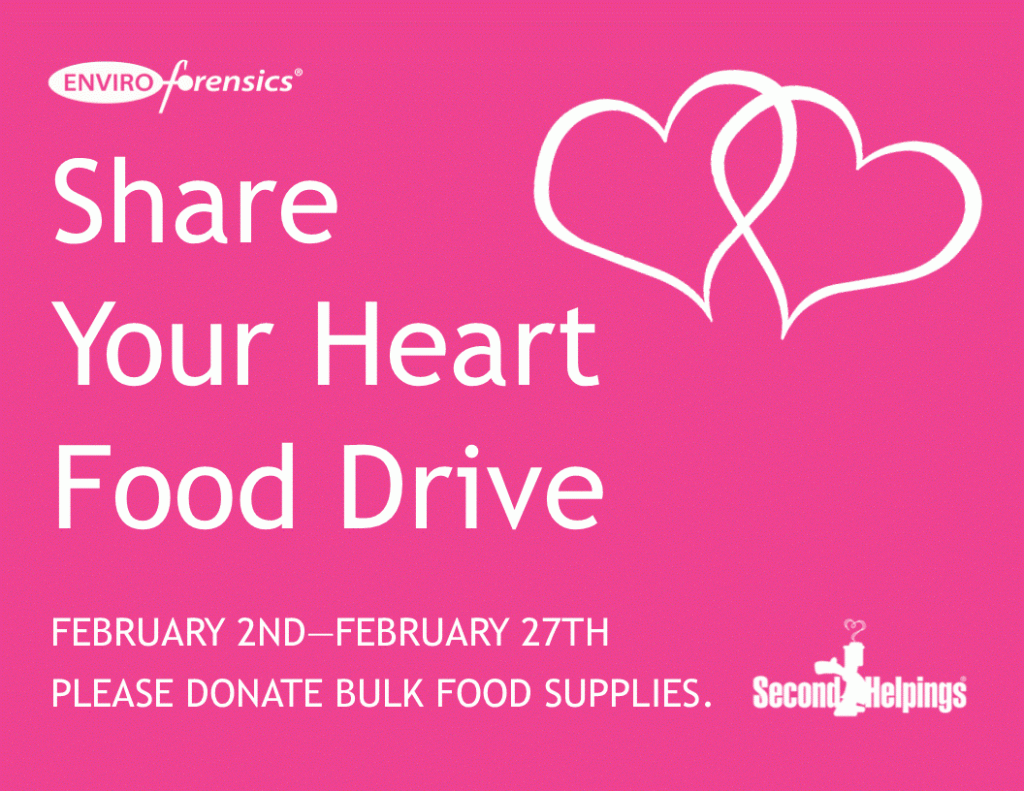 We are proud to host our 4th Annual Food Drive, February 2nd – February 27th to benefit Second Helpings. All of the items collected at our partnering locations will be donated to Second Helpings on March 3rd. Share your Heart and help us support Second Helpings feed hungry Hoosiers in need.
What is Second Helpings?
Second Helpings is a community kitchen with two missions: 1. to help disadvantaged adults get jobs in the food-services industry through their Culinary Job Training program, and 2. through this program they prepare 3,500 hot meals a day to feed thousands of hungry adults and children in need.
What food/items are most needed?
The following are the most needed items for Second Helpings' kitchen to create the nutritious meals they prepare daily:
Pantry Items
Spices

Dry Pasta
Rice
Tomato products in large cans
Cheese sauce in large cans
Soy sauce

Salt
Ground pepper
Chili powder
Cumin
Curry powder
Garlic Powder
Oregano
Participating Locations:
40 Minute Cleaners – 2201 E 62nd Street, Suite D
Bright Ideas in Broad Ripple – 7425 Westfield Blvd.
Deering Cleaners – 602 Capitol 602 N Capitol
Deering Cleaners – Hazel Dell 14753 Hazel Dell Crossing # 800, Noblesville
Dallara Indycar Factory – 1201 West Main Street (Speedway)
EnviroForensics – 602 N Capitol
EnviroForensics – 114 St. Clair
ENVision Laboratories – 1439 Sadlier Circle West Drive
Ice Miller LLP – One American Square, Suite 2900
Katy the K9 Keeper – Broad Ripple – please call 317-507-7899 or email Katy@KatyThek9Keeper.com
Meridian Heights – 4915 N Pennsylvania Street
MoJoe's Coffee House – 222 West Michigan Street
Pappas Cleaners – 5050 E 38th Street
Pine Environmental Services – 7144 Zionsville Road
Taft Stettinius & Hollister LLP – One Indiana Square, Suite 3500
Vapor Protection Services (VPS) – 6544 Ferguson Street, Suite A