Megan Hamilton considers herself a "hippy at heart", which is evident in her passion to clean up and protect the environment in her role as Director of Vapor Intrusion Services at EnviroForensics®. Megan is a Hoosier native; she grew up on the west side of Indianapolis and attended Ben Davis High School. Her college career didn't take her very far from home. She majored in Environmental Studies with a focus on Toxicology at Indiana-Purdue University of Indianapolis. Out of college, she spent 15 years with the Indiana Department of Environmental Management (IDEM), where she conducted oversight on drinking water, provided risk assessment and technical support to projects, and most notably, led the work group that authored the Remediation Closure Guidance (RCG) for the Vapor Intrusion pathway for the state of Indiana.
Shifting Careers from Regulatory Agency to Environmental Consulting
When Megan joined EnviroForensics, there were only 35 people on staff, and she was the only consultant solely focused on Vapor Intrusion (VI). Now that there's growing need for a more focused approach to addressing Vapor Intrusion, Megan leads a dedicated team of VI experts who provide indoor air assessments and guidance on all of EnviroForensics' projects. Megan provides consultation to project managers on VI and oversees all operations of the VI team. She's also the main point of contact for risk communication to third-party property owners, which has her burning the phone lines and traveling out to sites to request access. Megan says, "What I like about my job is that my days are completely different from day-to-day."
Solving The Complex Vapor Intrusion Puzzle
Megan recalls a particular work site that presented her and the VI team with an unusual challenge. "The indoor air concentrations of Volatile Organic Compounds (VOC) were under the IDEM screening levels on the first floor but were elevated on the second floor. We determined there were no other household products present on the second floor that could have contributed to the high concentration levels (a background source). We discovered from property records and thorough building inspections that the building was built in three stages, and these three different structures created an indoor alley or earthen space between the site building and adjacent structure. This open space allowed soil gas to travel up through the block wall space to the second floor of the site building where it made its way through the cracks of the wall, into the attic, and down through light fixtures and other exit ports in the ceiling and walls of the second floor. Once we determined this was the preferential pathway, it was easy to address the issue."
Why VI is An Immediate Threat
While soil and groundwater contaminations pose serious threats to human health, they are still just potential exposure. VI is an immediate exposure. "It's happening right now; you're breathing indoor air right now," Megan says. "When we do these assessments and install our mitigation systems, we're cutting off the pathway immediately, and creating healthier environments for the community right away." For Megan, the most rewarding part of a project is when the remedial work has been proven successful. "Now, we've made it so these people don't even need a mitigation system running, their indoor air is safe to breathe, and we've done our job."
---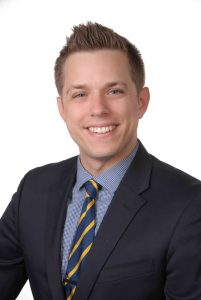 About the Author:
With a passion for storytelling, Alex Miller is EnviroForensics' Marketing Coordinator leading social media and content development. Before joining EnviroForensics, Alex spent four years in television news where he worked for local ABC and NBC affiliates in Fort Wayne and Indianapolis producing morning and weekend newscasts. He loves keeping up with current events, pop culture, graphic design, photography and community enrichment.