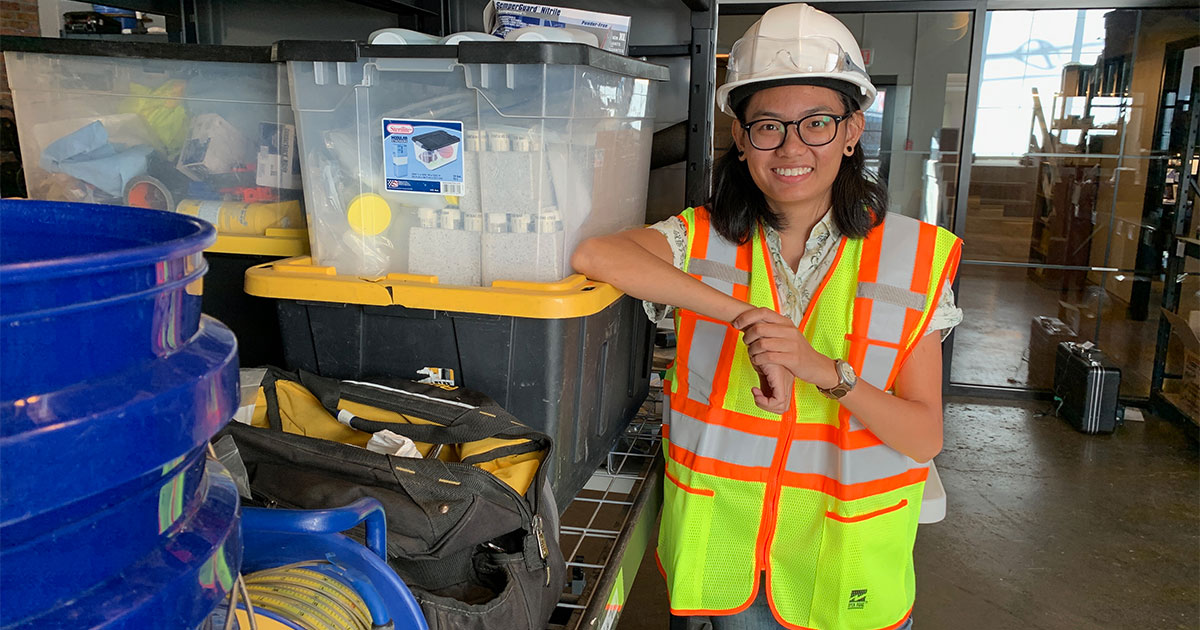 Field Professionals are responsible for providing the highest quality data from soil, groundwater, air and soil gas samples at sites contaminated with industrial chemicals, solvents, and petroleum throughout all stages of the environmental investigation, remediation, and risk assessment.
EnviroForensics' Director of Field Services Casey McFall, CHMM says, "The data collection process is the backbone of what we do. Without legally defensible and quantitative analytical data, environmental consultants can't begin the job of investigating and cleaning up contaminated properties. This all starts in the field."
Get to know Melody Che inside and outside of EnviroForensics through a Q&A with her. Welcome to EnviroForensics, Melody!
Melody Che, Field Professional
Question: Where did you grow up?
Answer: I was born and raised in Singapore and moved to Zambia when I was 11.
Q: Where did you study and what did you study?
A: I studied geology at Earlham College in Richmond, Indiana.
Q: Did you do research during your studies?
A: I researched paleotsunamis, which is the study of Tsunamis occurring prior to the historical record or for which there are no written observations, in Tanzania. We discovered evidence of a tsunami that happened in the area at some point in the past, which could be useful in predicting future tsunamis.
Q: Why are you passionate about the environment?
A: I enjoy being in the outdoors, and I think that nature and the environment are very awe-inspiring and that we need to do our part to preserve it.
Q: Why did you choose to go into environmental science?
A: I chose to major in geology because I enjoy being outside, and I like how it is a science that talks about systems on a more tangible macro scale, for example, mountain building over millions of years or how soil is formed, versus chemistry where you would talk about atoms which are too small to see. I chose to work in environmental because I feel that working on cleaning up polluted properties is a meaningful and fulfilling career.
Q: Why did you want to work at EnviroForensics?
A: I heard that the people and work culture here are great, and I really liked that there are a lot of women who work at EnviroForensics.
Q: What are you most excited about for your new role at EnviroForensics?
A: I am excited about the opportunity to learn from and work with all the great people here. I also feel that EnviroForensics has higher standards than other places I have worked at, and I look forward to being challenged by those standards and becoming better at what I do in the process.
Are you interested in becoming an EnviroForensics field professional? Apply today.