GET TO KNOW KENNA IN AND OUT OF ENVIROFORENSICS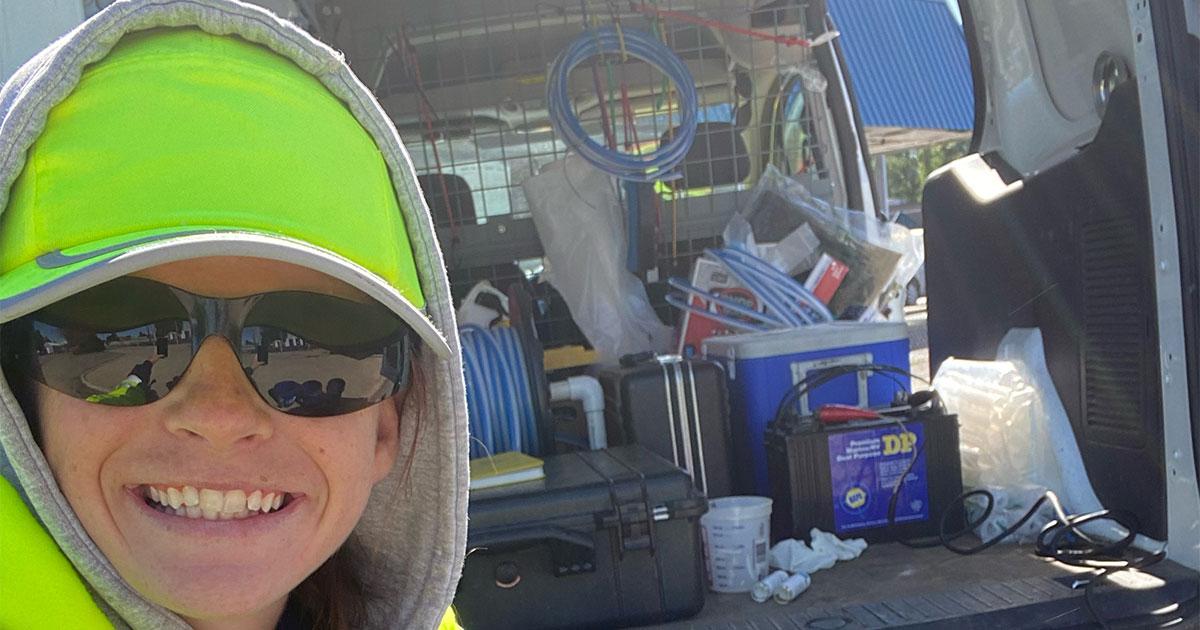 Field Professionals are responsible for providing the highest quality data from soil, groundwater, air and soil gas samples at sites contaminated with industrial chemicals, solvents, and petroleum throughout all stages of the environmental investigation, remediation, and risk assessment.
"We're excited to have Kenna join our team. She has an impressive resume, graduating with honors from Hanover College while being an All-American in track. In her short time here, she's impressed us with her work ethic and asking great questions," Director of Field Services, Casey McFall, said. "She is picking up the science and procedures of field work pretty quickly and the sky's the limit for Kenna as an environmental geologist."
Get to Know Kenna inside and outside of EnviroForensics through a Q&A with her. Welcome to EnviroForensics, Kenna!
KENNA HUNTER, FIELD PROFESSIONAL
QUESTION: WHERE DID YOU GROW UP?
ANSWER: I grew up in Monrovia, Indiana.
Q: WHERE DID YOU STUDY?
A: I studied at Hanover College in Madison, IN.
Q: WHAT DID YOU STUDY?
A: I majored in geology and minored in environmental science.
Q: DID YOU DO RESEARCH DURING YOUR STUDIES?
A: I did two research projects while at Hanover. My first project was partnered with GeoCamp Iceland to create interactive learning activities that were aligned with the Earth Science Literacy Principles. I took easily accessible materials and created activities that were implemented into the GeoCamp Iceland tour that easily demonstrated things like permeability, characteristics of grains, and chemical properties of rocks in the area of the Reykjanes Peninsula. My second project was partnered with Dr. Heyo Van Iten to create and analyze thin sections from Newfoundland and Nova Scotia that housed conulariida specimens.
Q: WHY ARE YOU PASSIONATE ABOUT THE ENVIRONMENT?
A: I am passionate about the environment because it is where my family, friends, and all people have to spend their lives and I don't want to spend my life in a contaminated environment. The environment is so beautiful and I want to help preserve and improve it.
Q: WHY DID YOU CHOOSE TO GO INTO ENVIRONMENTAL SCIENCE?
A: I chose environmental science because as a little kid I was obsessed with dinosaurs. So, my love for dinosaurs spread to the environment and rocks and I just never grew out of my love and passion for those things.
Q: WHY DID YOU WANT TO WORK AT ENVIROFORENSICS?
A: I wanted to work at EnviroForensics at first because I just knew it to be an environmental company and that is where I wanted my career to go. However, as I spoke with Casey McFall I realized it is way more than just any old business. Even from my first interview I understood how much the company values its employees and gives them every opportunity to grow and learn. I wanted a place I could grow and make a difference in the community while still having a life outside work.
Q: WHAT ARE YOU MOST EXCITED ABOUT FOR YOUR NEW ROLE AT ENVIROFORENSICS?
A: I think I'm most excited about being around people that are passionate about the environment like I am. I have so much to learn and I think I found a good place to do that so I'm excited to see what I can do for the company and vice versa.
Q: ANYTHING ELSE YOU'D LIKE TO SHARE?
A: I have a pet pig named Penelope that I've had for 7 years that is basically like a dog!
Are you interested in joining the EnviroForensics team? Apply today.