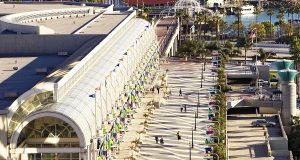 So we're on the road again, but this time we're leaving the Midwest and jetting to the West Coast to attend California Cleaners Association's "Fabricare" conference. It's a biannual event that attracts thousands of drycleaner owners and employees from around the country and across the globe!
We're excited about the opportunity to meet some new people, and tell them our story. After all, it is one that started not too far away from where we'll be this weekend. (EnviroForensics was founded in the San Francisco Bay area which is about a 7 hour drive North of Long Beach, where Fabricare is being held.)
We'll be exhibiting on the convention hall floor on Saturday and Sunday, spreading the word about proactively addressing environmental concerns, and demonstrating how our services can be helpful for that purpose.
Associations, like CCA, make these opportunities available for their members to learn about new technologies, industry-wide developments, and services, and we're so appreciative that we're given this chance to provide a little bit of that education.
This convention also gives us the opportunity to catch up with some industry friends. We expect to see past and present clients, fellow vendors, and others we have worked with. We're the title sponsor of the "President's Dinner" on Saturday Night, so it's bound to be a good time.
We're also expecting to have some interesting discussions about the future of the industry. In 2023, California's ban on the use of PERC will take effect, and we're interested to hear how drycleaners in California are working to implement this monumental change. The move to completely prohibit the use of PERC could be the first domino in a nationwide trend.
If you're in SoCal this weekend, and you want to learn more about our confidential insurance archeology services or our top-notch remediation solutions, come pay us a visit on the convention room floor. We'll be in booth #341.