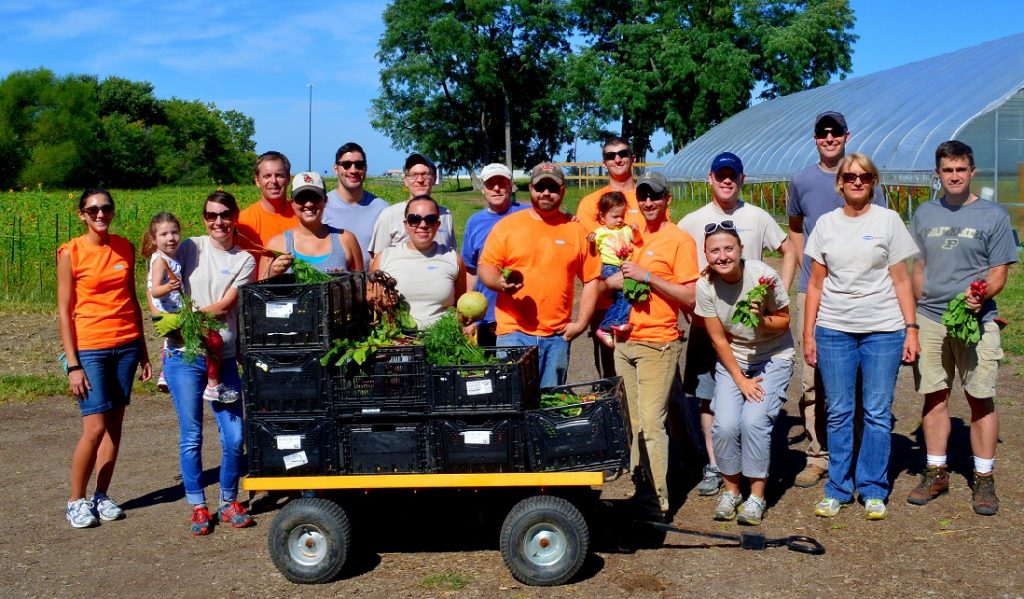 EnviroForensics employees and family members volunteered this past Saturday, August 22nd, 2015 at Indy Urban Acres Farm, an 8-acre organic farm that donates 100% of its fresh produce to local food pantries through a partnership with Gleaners Food Bank. An initiative of the Indianapolis Parks Foundation, Indy Urban Acres provides food equality for low-income families, educates young women and men through tours, workshops, and the employment of inner city youth, teaching teens valuable job and life skills and while improving Indy's food system. Since 2011, Indy Urban Acres has provided more than 30,000 pounds of fresh fruits and vegetables through Gleaners Food Bank. Nearly 1,000 volunteers have given their time and effort to accomplish this, and EnviroForensics is honored to be among this number.
Indy Urban Acres currently grow flowers on a small portion of their 8-acre farm and sell them at two farmers markets. However, next year the flowers will have their own space a few blocks from the current location. Indy Urban Acres has plans to expand its flower farm business to become self-sustained through the production and sale of flowers at farmers markets, for special events, and weddings.
EnviroForensics volunteers harvested 200 pounds of food—including tomatoes, peppers, cantaloupe, radishes, beets and eggplant–and had the opportunity to walk this food to the food pantry located a few blocks from the farm. Both the volunteers and fresh produce were greeted cheerfully not only by the staff of the food pantry, but also by the eager patrons. Volunteers also cleared out a tomato "garden" by removing the plants, taking down the fencing and collecting the seeds from each different variety of tomato for use next growing season. Indy Urban Acres boasts to have one of the greatest selections of heirloom tomato plants, growing over 200 different varieties.
This was our second year volunteering at Indy Urban Acres, with plans already underway for volunteering in 2016. It was another great experience for the EnviroForensics Team to share with each other and the community.