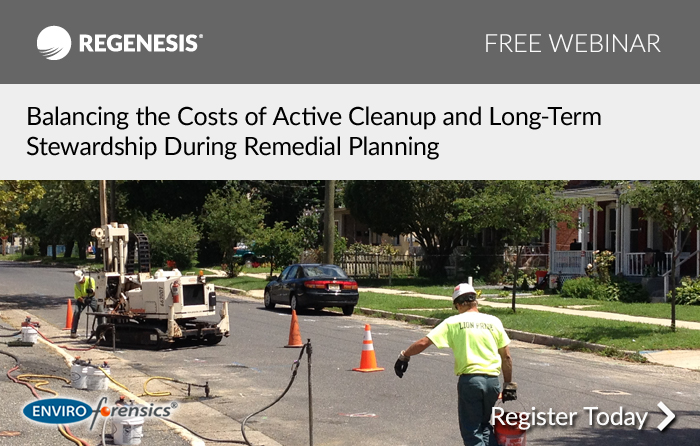 Another opportunity for us to showcase our expertise in managing complex cleanup projects. This Wednesday, our Executive Vice President, Jeff Carnahan, will present a webinar in partnership with Regenesis. (11am EST) We have worked side-by-side with Regenesis on numerous occasions, utilizing their innovative products to move projects forward and contribute to the success of our firm to deliver more effective remedial solutions to our clients.
This week's presentation brings a new perspective to the process of drawing up the most cost-effective cleanup strategy. At project sites where cleanup activities will leave behind some measure of residual impacts, future monitoring and management of the contamination (i.e. Long-Term Stewardship, or LTS) is required to protect human health and secure regulatory closure.
Contaminants like the chlorinated solvents, which we manage regularly, can exist in the subsurface for very long time periods of time if not removed during remedial actions. Although the reduced-price tag of less aggressive remedial actions is very appealing, predicted LTS costs can be very high and may keep the future marketability of impacted sites vague. Additionally, the greater the amount of contaminant mass remaining long-term, the greater the likelihood of future claims against the responsible party from exposed parties, or damaged property owners.
In this free webinar, Jeff Carnahan will cover balancing the costs of active cleanup and long-term stewardship during remedial planning.
Topics featured in the webinar include:
· A regulatory perspective on LTS
· A discussion of the relationship between active remediation and LTS
· Real-world examples of remedial objective decision making involving an LTS component and actual costs
To register click the banner a the top of the page or follow this link.