Three EnviroForensics environmental remediation experts spent a week in Palm Springs at the Conference on Remediation of Chlorinated and Recalcitrant Compounds presented by Battelle. Our President Jeff Carnahan, Chief Geologist Keith Gaskill and Senior Engineer Collin Martin share their learnings from the conference.
1. There are Some Game-Changing Developments on the Horizon
We saw a new site investigation technique that uses a geoprobe drill to collect additional data, like groundwater speed, that once required multiple drilling sessions. This would potentially cut down on the time and cost of an environmental investigation which would be a big game-changer in the industry.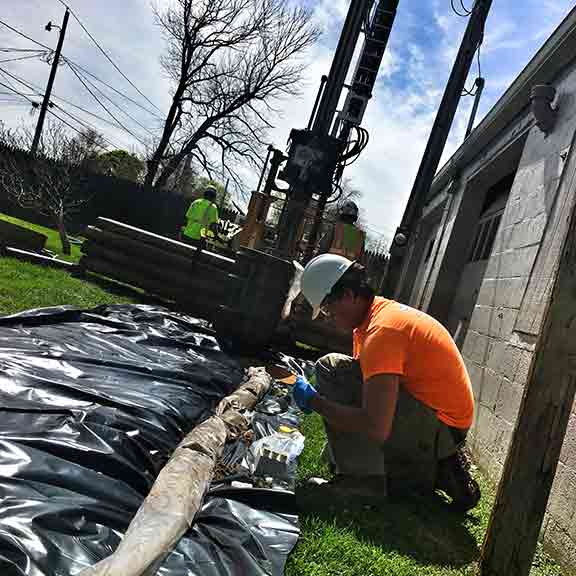 New investigation techniques seen at Battelle could give our field professionals more data during one geoprobe drilling session.
2. A Conference is a Great Place to Trade Ideas and Advance Environmental Science

While in Palm Springs, we connected with technical representatives working on innovative remedial approaches with cutting edge technology. For example, our Chief Geologist, Keith Gaskill, L.P.G., teamed up with Douglas Davis and Steve Barnes from Regenesis to co-author research on a remediation technique that focuses on speeding up the natural breakdown of chlorinated solvents in soil and groundwater.
For an in-depth look, download Keith's "Controlling Back-Diffusive Mass loading at Three Midwest Sites with Glaciogenic Interbedded Geology Utilizing a Colloidal liquid Activated Carbon" poster.
You can also take a deeper dive into Collin Martin's poster presentation. Download "Using Soil Gas Concentration Mapping to Predict Soil Vapor Extraction Radius of Influence Variances and Optimize Remedial System Design."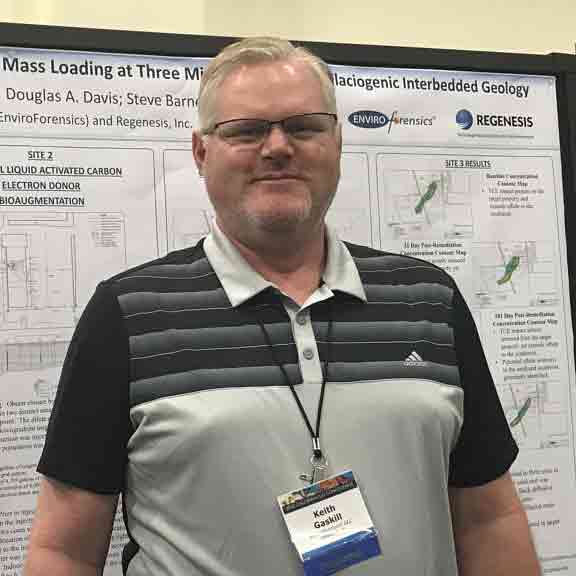 Chief Geologist, Keith Gaskill, L.P.G.(left) and Senior Engineer, Collin Martin, P.E., CHMM (right) standing in front of their posters at the Battelle Chlorinated Conference. Palm Springs Convention Center, Palm Springs, California.
3. …And Learn From Other People's Experiences
We heard presentations from consultants about their experiences investigating different types of contamination sites like dry cleaners, gas stations and old manufacturing plants. No matter the scenario, understanding the contamination before organizing a cleanup strategy is essential. The presentations we saw reinforced our dedication to this process.
More than 1,600 environmental professionals attended the Battelle Chlorinated Conference. Palm Springs Convention Center, Palm Springs, California. Courtesy: Battelle Memorial Institute
4. There are Endless Opportunities for Collaboration
A conference is a great place to network with peers, partners and vendors who can provide their expertise on projects and future endeavors. We're proud to be partners with Regenesis and from that partnership we've been able to collaborate with them on an e-book.
Download it now: A Business Case Approach to Site Cleanup: In Situ Remedial Strategy vs. Long-Term Stewardship.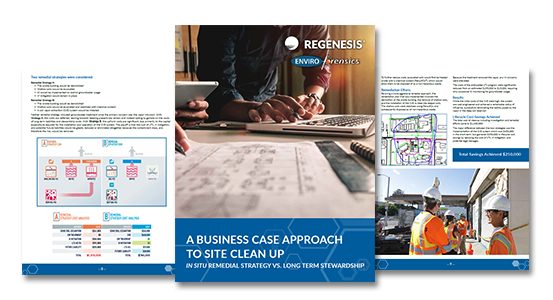 5. Active Participation Helps Companies Stay on the Leading Edge
Conferences are great professional development opportunities. They're a way to experience new industry trends like the continued development of injecting chemicals into the ground as a remediation method. They're also a place to learn more about up-and-coming innovations like the practice of running electrical currents through the ground to direct the breakdown of a contaminant. These experiences make us more adaptive in our jobs while advancing the science to deliver innovative environmental solutions to clients.
The learning lab at the Battelle Chlorinated Conference. This is one of dozens of sessions happening during the week where environmental professionals could share their research and ideas with their peers. Palm Springs Convention Center, Palm Springs, California. Courtesy: Battelle Memorial Institute
Stay up to date with the latest industry trends in environmental remediation. Look below to subscribe to our monthly newsletter and follow us on social media.