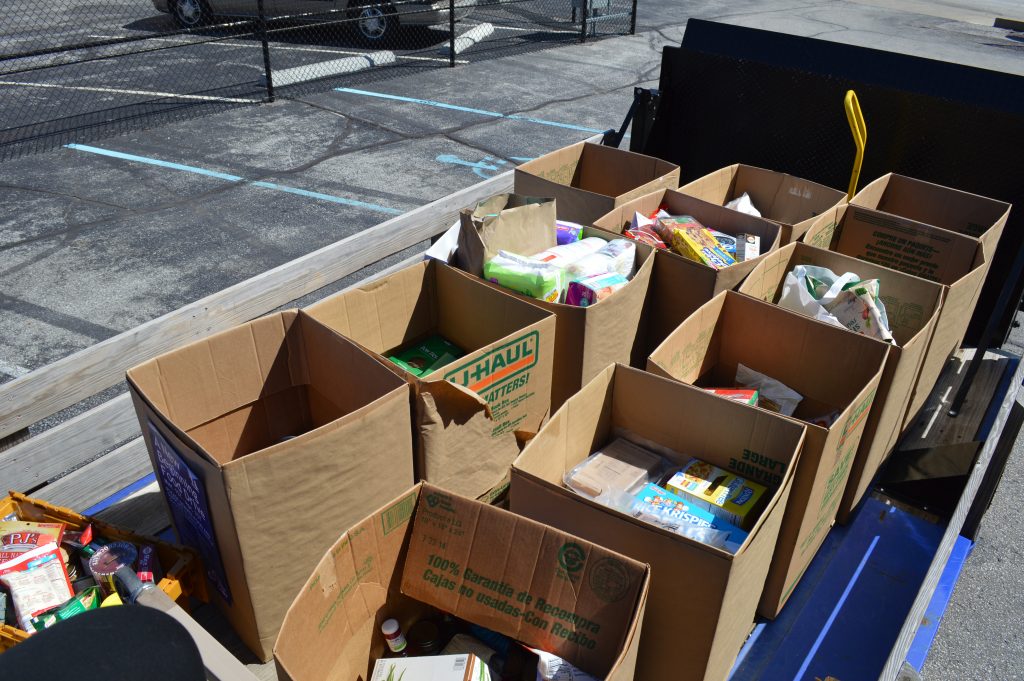 A big "thank you" to all who donated to EnviroForensics' "A New Beginning" Food and Supplies Drive! It was a huge success! At the end of our month-long drive, we were able to donate 14 boxes of food and supplies to the Julian Center. These donations will help the Julian Center's mission to aid victims of domestic violence.
The Julian Center supports and assists victims of domestic violence, sexual assault and other life crises through services such as counseling, safe shelter, case management, advocacy, education, transitional housing and affordable housing. Not only does the Julian Center provide safe places and counseling, the Julian Center also educate the community about domestic violence and its dramatic effects on everyone's lives. Much of what we know about domestic violence comes from the Julian Center's constant outreach. The Center's goal is to significantly reduce the occurrence of domestic violence and sexual assault in addition to helping survivors heal.
The Julian Center's mission is important to EnviroForensics. We believe in empowering women. And we work hard togive back to the community by organizing a number of annual philanthropic campaigns such as this Food and Supplies Drive.
These campaigns would not be possible without our participating locations and the generosity of everyone who donates. Each year, our drives become more successful, and we greatly
appreciate everyone who helps make this possible.
Below is a list of the 25 locations who participated in this year's Food and Supplies Drive.
40 Minute Cleaners– 2201 E 62nd Street, Suite D, Indianapolis, IN
Broad Ripple Fit Club– 6542 Westfield Blvd, Indianapolis, IN
Deering Cleaners– 602 N Capitol, Indianapolis, IN
Deering Cleaners– 14753 Hazel Dell Crossing # 800, Noblesville, IN
Deering Cleaners– 3838 N. Illinois St., Indianapolis, IN
Einterz and Einterz– 4600 Northwest Plaza W, Zionsville, IN
EnviroForensics– 602 N Capitol, Indianapolis, IN
Envision Laboratories– 1439 Sadlier Cir W Drive, Indianapolis, IN
Goldfish Swim School– 271 Merchants Square Drive, Suite A-110, Carmel, IN
Goldfish Swim School– 11581 Geist Pavilion Drive, Suite 114, Fishers, IN
IE Monitoring Instruments – 8144 Zionsville Road, Indianapolis, In
ICE Miller LLP– One America Square, Suite 2900, Indianapolis, IN
Integrity One Technologies– 801 N Capitol Ave, Indianapolis, IN
Meridian Heights Cleaners– 4815 N Pennsylvania Street, Indianapolis, IN
Mo'Joe Coffeehouse– 222 W. Michigan Street, Indianapolis
Northern Lights Locating– 8109 Network Drive, Plainfield, IN
Pappas One Hour Cleaners– 5050 E 38th Street, Indianapolis, IN
PFM Car & Truck Care– 1402 W Hanna Ave, Indianapolis, IN
Pine Environmental Services– 7144 Zionsville Road, Indianapolis, IN
PolicyFind– 114 W St. Clair Street, Indianapolis, IN
Raybourn Group International– 9100 Purdue Road, Suite 200, Indianapolis, IN
School of Rock– 626 S Rangeline Road, Carmel, IN
Sparkle Cleaners– 5167 N. College Avenue , Indianapolis, IN
Vapor Protection Services– 6544 Ferguson Street, Suite A, Indianapolis, IN
Ziegler Cohen & Koch– 9465 Counselors Row, Suite 104, Indianapolis, IN