Key Personnel
Krishna V. Mayenkar, P.E.
Chief Engineer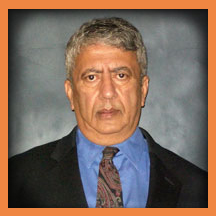 Mr. Mayenkar has nearly 30 years of experience in water and wastewater treatment, solid and hazardous waste management, groundwater and soil cleanup, and industrial waste management. He has been responsible for process development, project management, and providing technical guidance and quality control for several national environmental engineering firms. Mr. Mayenkar was responsible for the development of two patented processes: Removal of toxic metals from water and wastewater using iron filings, and generating potable water from oily ballast water.
Mr. Mayenkar has provided expert witness testimony in legal proceedings related to groundwater remediation and authored several papers about water quality assessment, industrial waste management, hazardous waste treatment and disposal, and groundwater and soil cleanup.
Mr. Mayenkar has completed numerous projects in industrial wastewater treatment, soil and groundwater remediation, human risk assessment, remedial system operation and maintenance, and site closures. As part of these projects, he has developed an extensive understanding of the regulations, safety and risk factors associated with the system design, state of the art technologies, operation and maintenance requirements, detailed cost assessments and site closures.
Mr. Mayenkar has extensive experience in Soil Vapor Extraction, Air Sparging, Ozone-Peroxide Oxidation, Enhanced Biodegradation, Iron and carbon in-situ treatment and other remedial technologies.  As part ex-situ treatments, he has designed and implemented several biological and physical-chemical treatments including clarification, filtration, carbon adsorption, Reverse Osmosis and UV-Ozonation.
E-mail: kmayenkar@enviroforensics.com
To receive a copy of Krishna Mayenkar's resume, call 866.888.7911