Year-end wrap up session summarizes US EPA's and IDEM's evolving long-term stewardship policies for achieving site closure and managing the vapor intrusion (VI) pathway.
Please join us on Wednesday, November 19 for an exclusive session with Dr. Henry Schuver and Bruce Oertel focused on one of the hot topics in the environmental arena. Long-term stewardship is the term used for monitoring and managing onsite and offsite conditions as part of Site Closure. Monitoring could include groundwater and vapor sampling and managing could include ensuring that environmental restrictive covenants (ERCs), placed on properties are adhered to and that vapor mitigation systems placed in onsite and offsite structures are operating and indeed mitigating vapors from beneath building slabs.
In 2014, U.S. EPA and IDEM clarified and refined guidance that significantly affects how contaminated sites are investigated, remediated, and closed. Dr. Henry Schuver with U.S. EPA has lectured from San Diego to Philadelphia on the long-term stewardship obligations which would be required as part of a risk based closure when contamination is left in place. Mr. Bruce Oertel is helping IDEM shape and integrate long-term stewardship into its existing site closure guidance. As many of you know, in February IDEM released a draft non-rule policy covering potential long term monitoring obligations for VI mitigation systems. This final session for the 2014 VI playbook series provides an opportunity to hear from key federal and state regulators their perspectives on long term stewardship obligations coupled with a forecast for additional developments in 2015.
This session features two key stakeholders responsible for shaping federal and state policies on long term stewardship obligations – Dr. Henry Schuver with US EPA and Bruce Oertel with IDEM. Dr. Schuver and Mr. Oertel will be the sole presenters and will provide exclusive insights into EPA's and IDEM's perspectives on long term stewardship obligations.
Hosted and Moderated By:

Vapor Intrusion Expert at EnviroForensics
Megan Hamilton
(317) 972-7870
mhamilton@EnviroForensics.com
Megan Hamilton is a Risk Assessor and Vapor Intrusion Specialist for EnviroForensics. She develops, helps implement, and oversees the VI investigations and mitigation for all of EnviroForensic's projects. She is also the main contact for risk communication issues and community outreach development. Megan has over thirteen years of experience in environmental regulatory oversight with a focus on risk assessment and vapor intrusion expertise. Her diversified professional experience includes research, policy development, technical writing, public outreach, vapor intrusion investigation and remediation, data analysis and interpretation, human health risk assessment, and conceptual site model analysis. Megan served as the coordinator and team leader for the Indiana Department of Environmental Management's (IDEM) Vapor Intrusion Workgroup for six years and is the main author of the current Indiana Vapor Intrusion Guidance.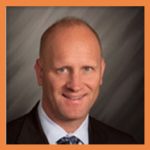 Partner and Chair of Brownfields & Environmental Transactional Diligence Practice Areas at Barnes and Thornburg LLP
David R. Gillay
(317) 231-7474
dgillay@btlaw.com
David Gillay is a partner in the Indianapolis office of Barnes and Thornburg LLP. He heads the Brownfields and Environmental Transactional Practice Groups and provides environmental counseling in connection with assessing environmentally challenged properties. Over the last decade, David has focused on the legal, regulatory, and technical impact and implications related to the vapor intrusion pathway. He also represents an influential multi-state environmental consultants' association and works closely with leading technical experts on a wide array of environmental matters, including rapidly evolving vapor intrusion guidance. Prior to joining Barnes & Thornburg, he obtained an advanced environmental engineering degree and practiced as an environmental consultant on various projects across the country.
Location:
The presentation will be live in Indianapolis and Washington D.C., with live video feeds to Los Angeles; Columbus, OH; Grand Rapids; Atlanta; Chicago; and Minneapolis. There will also be a webinar/webcast option for those not able to make it to one of these venues.
Barnes & Thornburg – Indianapolis
11 S. Meridian Street, Indianapolis, IN 46204
Barnes & Thornburg – D.C.
1717 Pennsylvania Avenue N.W., Suite 500, Washington, District Of Columbia 20006
Date and Time:
Wednesday, November 19, 2014
2 p.m. – 3:30 p.m. ET
This invitation-only event. There is no charge for this event, but registration is required. Seating is limited.
Questions? Contact jodie.daugherty@btlaw.com or (317) 261-7922
---
Dr. Henry Schuver, Environmental Scientist at US EPA
(703) 308-8656, schuver.henry@epa.gov



Abstract:

What is the Evidence for Stopping All Monitoring? (for the Vapor Intrusion Pathway)
The assessment of Vapor Intrusion (VI) presents numerous challenges that are perhaps enhanced by the historical, implicit and unexamined presumption of predictability, with the ultimate goal of stopping all monitoring. This presentation reviews the evidence (& relevant policies) for stopping all monitoring of the VI pathway, and initiates consideration of the possible implications.

Dr. Henry Schuver (DrPH, Epidemiology, Johns Hopkins School of Public Health; M.S., Geology, Arizona State University) has been an Environmental Scientist with the USEPA's Office of Resource Conservation and Recovery (ORCR), Cleanup Programs Branch since 1997. In 1999 he authored the national RCRA Corrective Action Environmental Indicator (EI) guidance for Groundwater Migration, and for Human Exposures, which required a review of all plausible exposure pathways for subsurface contamination, including impacts to indoor air. He led the development of the 2001 Supplemental Guidance for Vapor Intrusion (VI) for RCRA EI, which led to the development of the OSWER draft 2002 guidance, and since 1999 has been holding annual national workshops to improve the science and understanding of vapor intrusion. He is currently leading the development of a technical 'Radon Lessons' document based on the scientific observations from Radon, and promoting cost-effective responses to potential VI risks that benefit public health and welfare, such as 'Soil-Gas Safe Communities.' Prior to coming to Washington, he worked in the USEPA Regional office in NY (1995-1997), as a private consultant in PA (1989-1995), and with the State of NJ (DEP) (1985-1989).

Bruce Oertel, Remediation Services Branch Chief at Indiana Department of Environmental Management
(317) 232-4535, boertel@idem.in.gov


Abstract:

"A State's Perspective on Long Term Stewardship"
This presentation will examine the need for Long Term Stewardship in the State of Indiana and how that might be implemented.

As Chief of the Indiana Department of Environmental Management (IDEM) Remediation Services Branch, Bruce is responsible for state and federal cleanup programs including Voluntary Remediation, State Cleanup, Superfund, Site Investigations, Defense Environmental Restoration, and remediation technical issues at Brownfield sites. Prior to his initial service at IDEM, Bruce served for eight years as a Water Resource Planner for the Indiana Department of Natural Resources (IDNR), preparing U.S. Army Corps of Engineers Section 404 Permits for the Flood Plain Management Program, planning and managing flood mitigation projects, and performing water resource studies. Prior to IDEM, he owned and operated an environmental consulting firm. In this capacity, he worked extensively with property owners, real estate agents, bank officers and attorneys to address environmental issues at properties throughout the state. Bruce has served on the National Advisory Board of the National Brownfield Association, on the University of Cincinnati Superfund Basic Research Outreach Advisory Board, and the Governor's Meth-Free Indiana Coalition. He currently serves on the Board of Directors of the Association of State & Territorial Solid Waste Management Officials (ASTSWMO).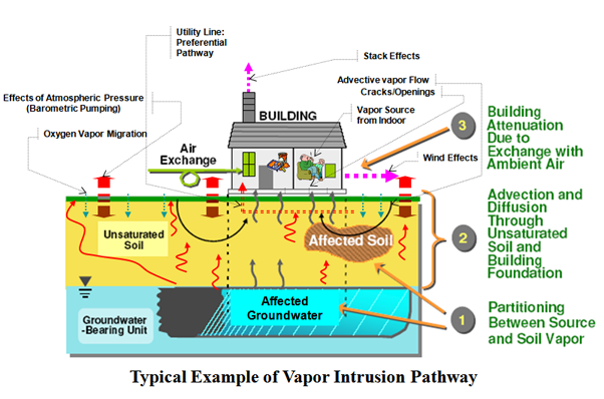 ---
About Vapor Intrusion:
The assessment and mitigation of the Vapor Intrusion (VI) exposure pathway has recently become the most highly researched and regulated field in the environmental industry. Vapor intrusion (VI) is a process by which chemicals in soil or groundwater migrate to indoor air from underlying contaminated soil and groundwater. Accidental releases of volatile chemicals, such as solvents or other petroleum products, into the subsurface result not only in soil and groundwater contamination, but also contaminated soil gas plumes. If contaminated soil gas moves toward and into houses or buildings, it is then known as Vapor Intrusion (VI). The potential that building occupants may unknowingly be breathing potentially harmful levels of impacted air due to nearby environmental releases is prompting state and federal agencies to impose conservative regulations and guidelines, designed to be protective of human health.
Recently, the US EPA sent its completed Vapor Intrusion guidance document to the White House Office of Management & Budget for review. This is to be the last step in preparing the guidance for use by the Agency in the regulation of Vapor Intrusion. And while the U.S. EPA has released it's final guidance on VI issues, many environmental consultants are just beginning to learn about the VI exposure pathway as awareness of the problem increases. Monitoring the vapor intrusion (VI) and ensuring that vapor mitigation systems continue to operate effectively are a major component of long-term stewardship and requirements of site closure at sites contaminated with volatile organic chemicals.
Read More Articles on Vapor Intrusion
---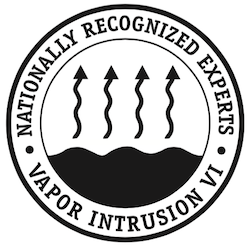 EnviroForensics is an environmental engineering firm specializing in soil and groundwater investigation and remediation and vapor intrusion assessment and mitigation. EnviroForensics has been conducting VI assessments and helping our clients manage associated risks for over a decade. EnviroForensics' Vapor Intrusion experts are active members of the scientific research community that is at the leading edge of the issue. As the regulating agencies continue to develop and update guidance and screening levels in an increasingly complex manner, EnviroForensics can help you assess your compulsory responsibility and the real level of risk from VI that may, or may not be, associated with subsurface impacts at or near your site.